If you want to take your home aesthetics to the next level, consider incorporating some beautiful house plants in your living areas. Not only do aesthetic plants serve as your interior's finishing touches, but they can also improve your mood and your home's air quality.
Aesthetic plants are great additions to your home and can enhance your interior decor's theme. Depending on the style you're going for, you can choose plants that will give you earthy, floral, or chic vibes. Additionally, it will help if you chose plants that compliment your lifestyle and won't be a hassle.
In these next sections, we will discuss why you should decorate your home with aesthetic plants and where to find them. Additionally, we will discuss which types of indoor plants will compliment your home's design and how to care for your plants.
This site features affiliate content. As an affiliate partner of various brands, we earn commissions on qualifying purchases, at no extra cost to you. Please read our disclaimer for more information.
Why Should I Decorate My House with Plants?
If you want to add some life to your home, you should consider incorporating some aesthetic plants into your living areas. They can add a unique touch to any room, and if you choose wisely, they can be easy to maintain.
In addition to this, plants can serve many other purposes besides being interesting room decor.
Besides enhancing your living areas, they can:
When adding some pretty indoor plants to your home, you should know that the benefits are more than surface-level.
Before we dive into our plant recommendations, check out the video below for some inspiration and plant styling tips:
Choosing Plants For Different Aesthetics
The overall aesthetic of your home is a direct reflection of your personal style.
Choosing the right houseplants ensures that they will compliment your design instead of competing with what you already have going on.
Plants For Floral Aesthetic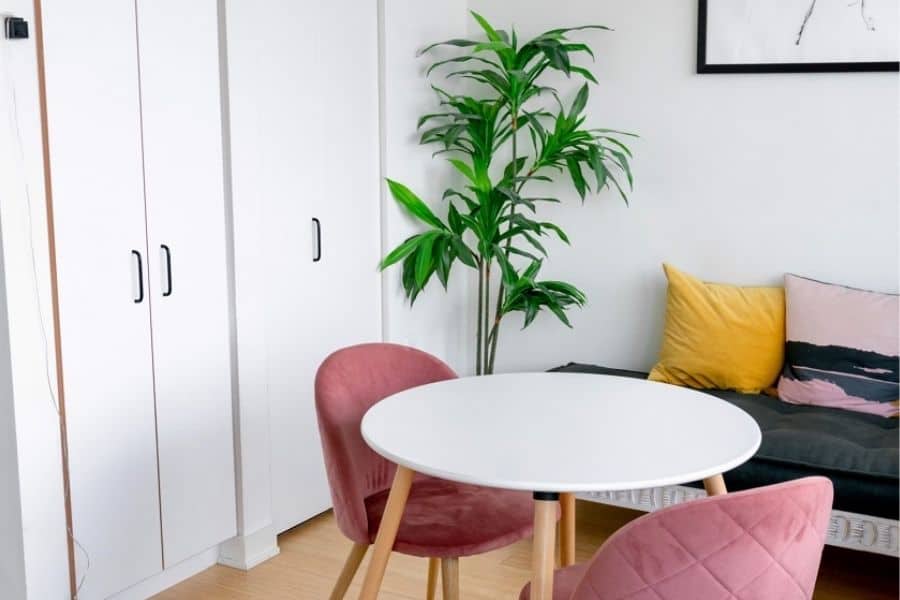 If you have a floral aesthetic, you probably have dreamt of living in a cottage in the mountains at least once. You love pastel colors such as lavender, mauve, and baby blue. You enjoy filling your home with gold and antique silver items, and you value their uniqueness. Additionally, you go head-over-heels for a bouquet that looks like it was picked from a mountainside.
For this aesthetic, you should incorporate some bright, flowering plants into your home's decor. They will give your home a welcoming feeling and will make you feel like you're living in a comfy cottage. Some great, low-maintenance flowering plants to include are:
To achieve your floral aesthetic, you'll want to look for flowering plants that have a lot of volume and a pop of color. These plants are usually very easy to maintain and can offer you year-round beauty.
Also, these plants look best in large numbers. While their pots or baskets should remain on the smaller end of the spectrum, they look best when paired with multiple pots to create a fuller effect.
Plants For Earthy Aesthetic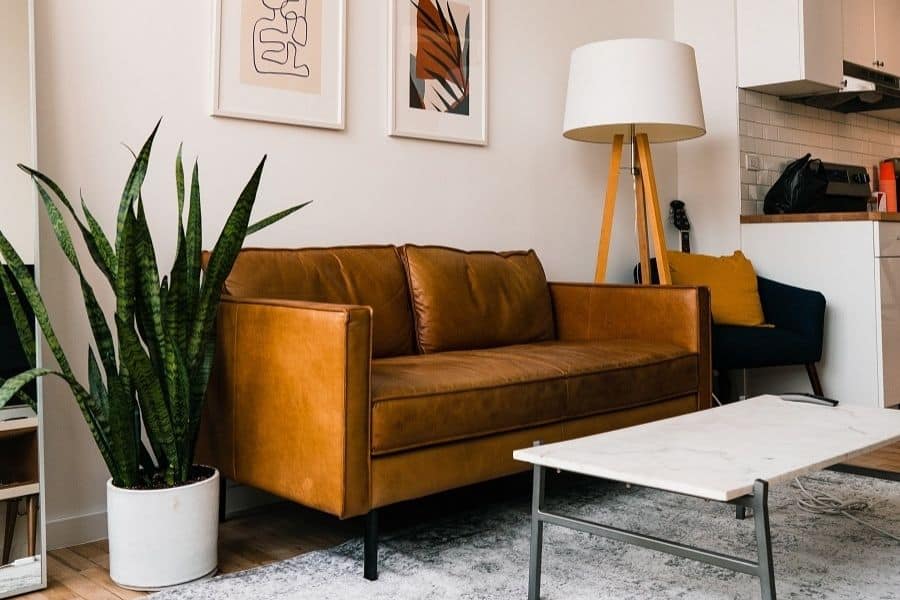 If you have an earthy aesthetic, you probably enjoy the earth muffin, boho-chic vibe. Your home is probably filled with interesting thrift store finds, and you enjoy unique items that not everyone has.
You're not into the flashy stuff, and you prefer to keep your furniture and decorations simple. Additionally, you like to utilize natural tones, such as amber, forest green, and tan.
For this aesthetic, you should incorporate some hanging plants into your living space. Hanging plants are unique and will certainly give your room a dreamy feeling. Some great, low-maintenance hanging plants to include are:
All of these plants are easy to maintain and only require water about once a week. Be sure to hang your plants near the windows in your house, as this will easily provide them with nutrients.
Additionally, these plants are ideal for pairing with home decors such as round mirrors and self-portrait art. This will help tie-together you're earthy aesthetic and enhance your plants.
Plants For Chic Aesthetic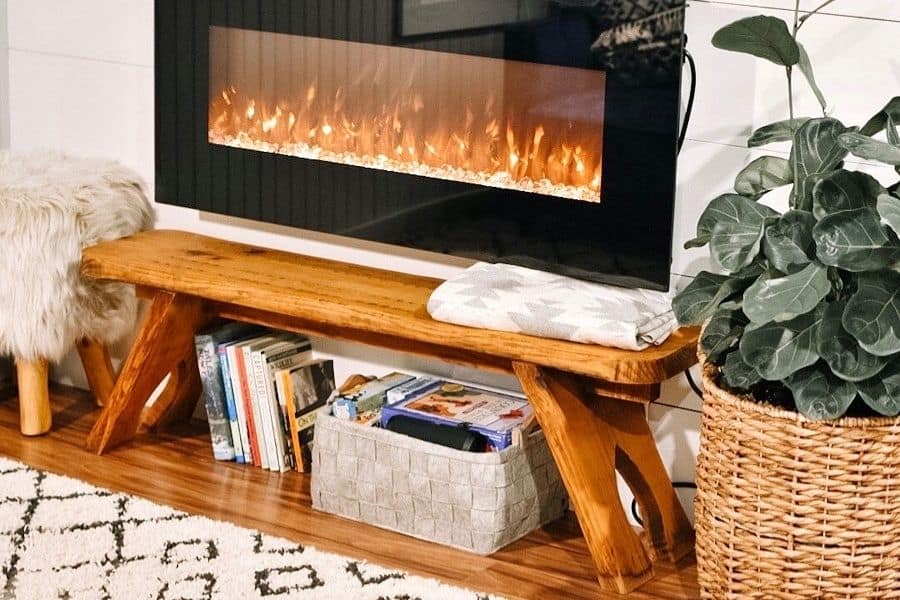 If you have a chic aesthetic, you probably love the modern trend for home decor. You enjoy all things that are shiny and new and lean more towards classic colors like white, cream, grey, and black. If you're worried that plants will ruin your chic aesthetic, you should check out some of these succulent plants that will add a high-fashion touch to your room decor:
To achieve your chic aesthetic, you'll want to look for simple, interesting succulent and cacti plants. These plants are extremely easy to maintain and can accentuate any room decor.
Also, to achieve the chic aesthetic, you'll want to keep these plants in some simple pots or baskets. Many colors can distract from their beauty, but colors such as white, grey, or black won't distract from their essence.
Where to Find Aesthetic Plants
If you've decided to take the plunge and adopt some new plants for your home, you may not know where to begin. Should you go to a large department chain store? Or maybe a small, family-owned business?
The tried-and-true Lowes is always a great option, as they have a large variety of plants for you to choose from. At Lowes, you can get the plants, pots, potting soil and plant care tools; they're a great one-stop-shop for all of your plant needs.
Additionally, you should consider checking out your local plant nursery for great finds and deals. You'll be supporting local business, which is especially needed during our current times, and you may find some unique plant varieties that Lowes may be lacking. Your local nursery will also be a wealth of knowledge that will help you pick out the best plants for you and your space.
The Bottom Line
If you want to incorporate some vibrant plants into your home's decor, first consider your interior design aesthetic. Then, you need to assess your lifestyle and how much you're willing to dedicate towards keeping up with your plants.
All of the plants listed above are extremely easy to maintain, so no need to fret. These beautiful indoor plants will help you incorporate some life into your home and improve your overall air quality and mood.