Bohemian decor and aesthetics have been popular for decades. No matter what kind of decorating budget you're working on, it's fairly simple to throw together a bohemian living space that is affordable to set up but still manages to look sophisticated and deliberately thrown together.
Bohemian living rooms can come together well on a budget by choosing a theme before you start decorating, incorporating a lot of natural elements such as houseplants, and trying to source some of your furniture or accent pieces from vintage vendors. Thrift stores and yard sales are also a great place to pick up bohemian living room decor on a budget.

The best thing about a bohemian decorating style is that it is geared toward budget items and an eclectic decorating sense, so you can mix and match as you please. This allows you to come up with the perfect look at just the right price.
This site features affiliate content. As an affiliate partner of various brands, we earn commissions on qualifying purchases, at no extra cost to you. Please read our disclaimer for more information.
Choosing a Bohemian Theme on a Budget
There are a few different ways that you can carry a bohemian decorating scheme throughout your living room. Before you even begin to start purchasing items, you need to consider these bohemian design aspects:
Color
Selecting colors for your living room is one way to carry a bohemian theme across the room in many different fabrics or accessories.
This leaves you open to choose less expensive accent pieces that still manage to look cohesive.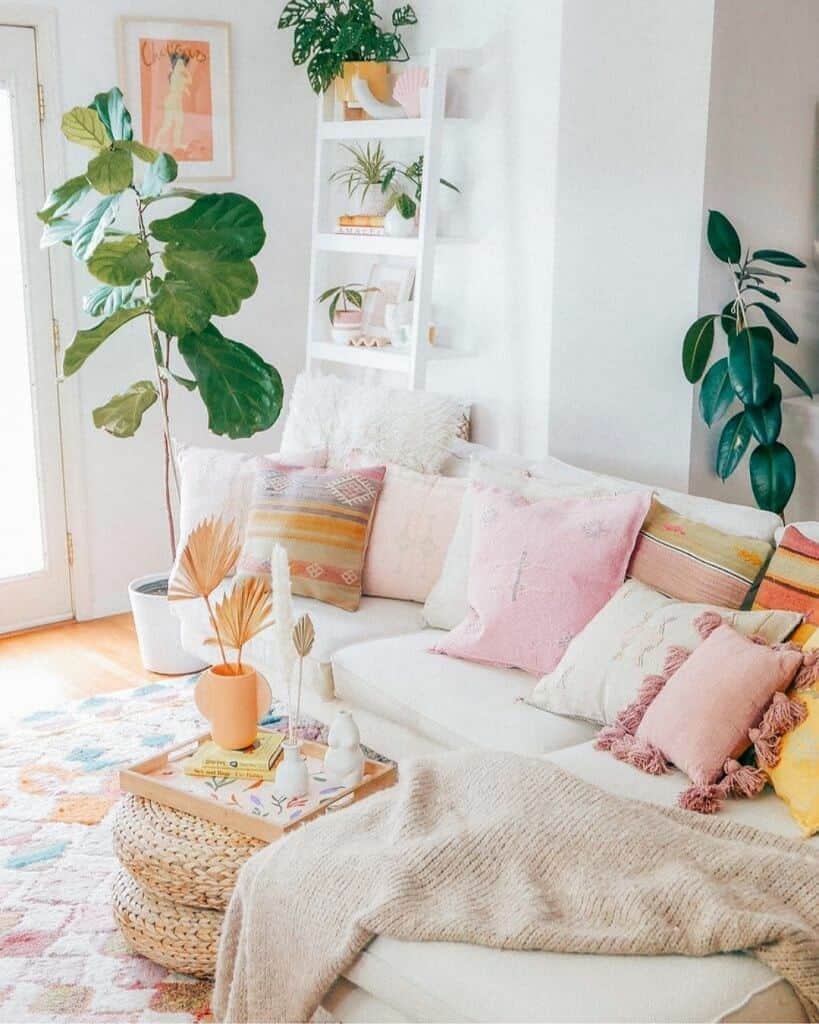 Texture
Bohemian design is defined by layering many different textures to form a cozy and somewhat scattered look.
Including textured accessories such as tassels, beads, feathers, macrame yarn, and bamboo or metal can create multicolored and interesting focal points throughout the room. Each of these items is also a pleasure to touch.
Cheap window treatments such as tapestries and beaded curtains are also popular in bohemian decor.
Pattern
Another defining aspect of the bohemian design is patterns.
Adding many different patterns can be a way to help the eye jump around the living room, making for a lively and interesting atmosphere.
It doesn't matter if patterns clash in a bohemian decorating scheme but choosing a few anchor colors (two or three) can help the room look more put-together.
Natural and Unnatural Elements
Since the bohemian look is eclectic, it can be a good idea to layer both natural and unnatural design elements together, such as brass candlesticks and a hanging vine houseplant.
The contrast between these two inexpensive elements helps to give bohemian décor its funky between-eras style.
You May Also Enjoy: Keep Plants & Cats Safe – How To Keep Cats Out Of House Plants
Layering
Layering is a mainstay of bohemian design, and it isn't uncommon for bohemian rooms to look kind of cluttered next to simpler contemporary designs.
But you'd be amazed at how comfortable a room can feel once you've thrown a series of layered rugs across the floor or hung some beads over a wall tapestry.
Layering can be done gradually, too, so new design elements can be purchased one at a time to stay within budget.
Vintage
Going after vintage finds at consignment shops, pawn stores, thrift stores, and yard sales can be one of the best ways to find unique one-of-a-kind bohemian accent pieces for a good price.
Finding a good vintage lamp for your living room side table or a mod coffee table from the sixties can pull your living room together.
Hunting vintage items at thrift stores can also save you money.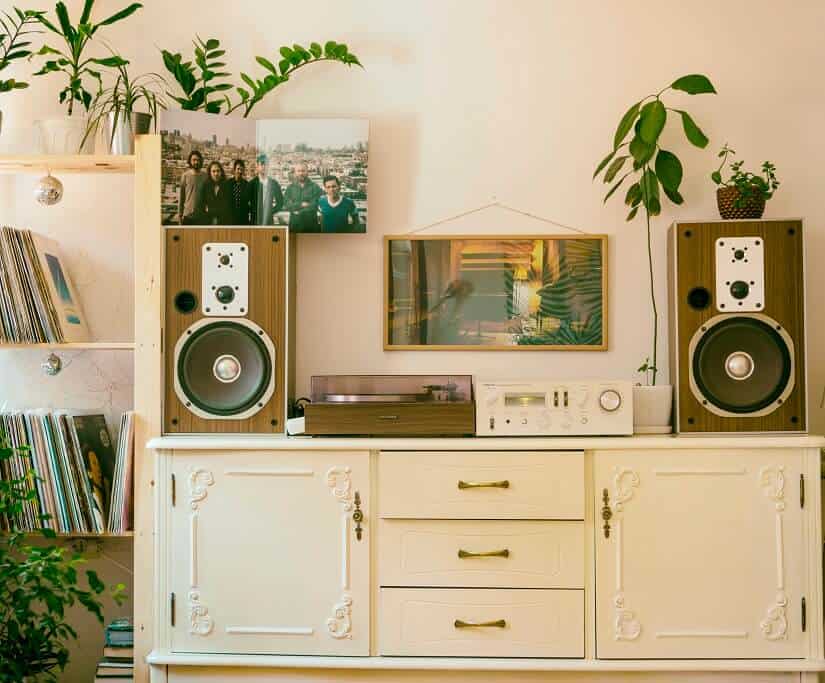 There are so many variations of the bohemian aesthetic that you could spend hours on Pinterest or Instagram perfecting mood boards of your version of the look.
But for those on a budget, this style is easy to build up with a mishmash of clashing furniture or hand-made art. Goodbye matching sofa sets!
Budget Finds on Amazon
Houseplants Are a Great Way to Add Bohemian Style to Your Living Room on a Budget
The hippie movement of the 1960s originally inspired bohemian style, and one of the design elements that hippies brought to the table (along with their love for cheap, brightly colored textiles and beaded curtains) was their love for nature and the beauty of living things.
In modern bohemian style, this can be interpreted in a living room space by adding plenty of vibrant houseplants—and when it comes to bohemian style, the more, the merrier!
Some of the best bohemian living rooms are a veritable jungle of houseplants.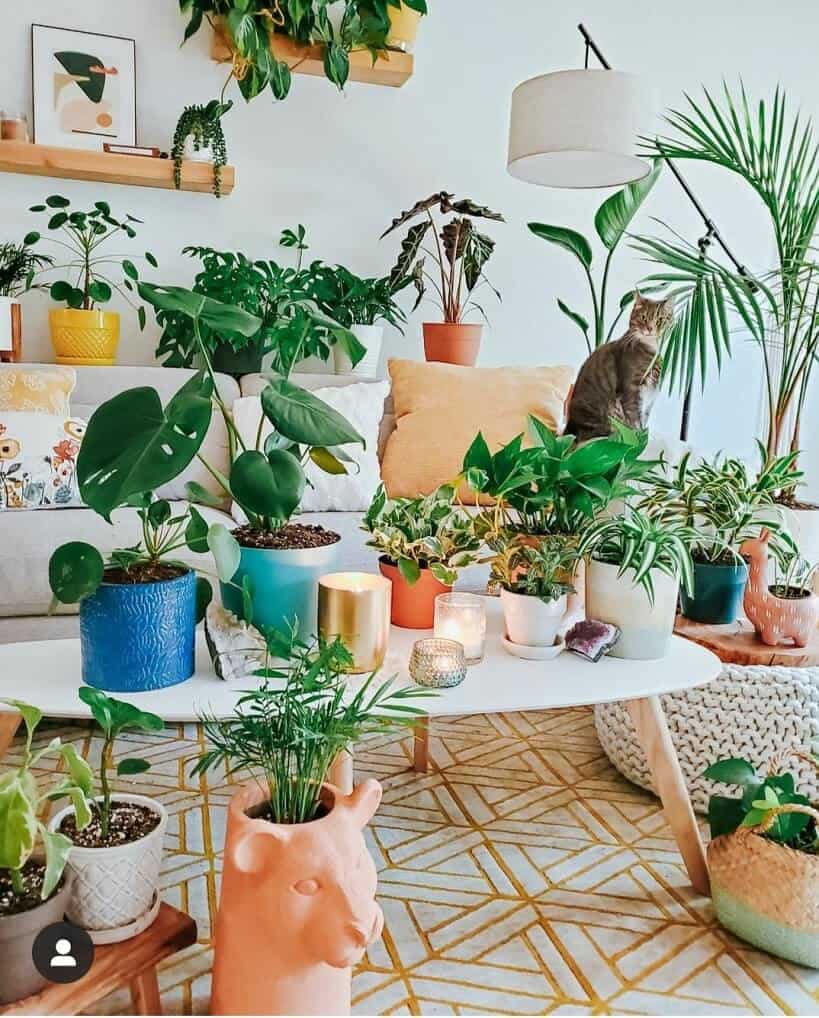 Here are some of the ways that houseplants can help to add to a bohemian living room look done on a budget:
Visual Clutter and Cohesion
Houseplants are available in various textures and shades, but their general green color can act as a visual anchor as your eye moves across the space.
If you add green houseplants throughout the living room, it will look cohesive even if other colors in your design are clashing.
Pots and Planters
Adding brightly colored or eccentric-looking pots and planters for different houseplants can help create a unique bohemian look for your living room without breaking the budget.
Both houseplants and their containers are quite cheap compared to many accents.
Many of these planters or pots can be bought cheaply at garage sales or discount stores and can also be decorated with paint or other accents to make them an even better fit for the space.
Check out these budget friendly plant pots & holders on Amazon
Macrame Plant Holders
If there is one type of arts and crafts that hippies and bohemians are associated with, it is macrame.
While you can macrame your own plant holders to help hang your houseplants throughout the living room to get some on the cheap, these adorable plant holders are also available for sale on Amazon.
This set of 4 macrame plant holders are my favorite for a mismatched look spread out through the entire room.
Living Walls
One type of bohemian decor with houseplants that has only recently begun to get popular is the living wall concept.
To pull this off in a living room, you can place a pallet or some other kind of frame on a wall and fill it with small succulents.
These types of houseplants can usually be found in bulk for a low price online, so that's the best source of plants for a do-it-yourself project like this.
House Plant Rehab
If you consider yourself to have a green thumb, one way to amass a great collection of houseplants is to take on the poor, tattered-looking houseplants from the discount rack at home improvement gardening centers.
While these plants may not look like much at first, a little tender loving care will usually bring them back bigger and brighter than ever.
You might even be able to get some really sad specimens for free if you're persuasive.
House Plant Accessories
There are many houseplant accessories, such as vintage watering cans or blown glass watering globes, that can add extra texture and color to the room while also serving the practical function of keeping your houseplants happy, healthy, and hydrated.
Since houseplants are inexpensive, they're the perfect addition to a bohemian living room design.
There are so many different species and variations that you're sure to find a few that fit into the look you're going for.
Bohemian Decor Is Cheap and Eclectic
The great thing about decorating your living room in bohemian decor when you're working on a budget is that there are no hard and fast rules for how to put this kind of look together.
No matter how quaint or hand-made your design elements are, they'll look right at home in a bohemian style.
As long as you mix and match bright colors, textures, and patterns with some running motifs, you can come up with a room design that looks straight out of a magazine but came straight out of a garage sale!
Related Reading
6 Ways To Decorate Living Room Shelves
How To Create A Bedroom Sanctuary