Give yourself the best chance of staying focused and increasing your productivity by setting up a home office space where you can actually get work done.
This doesn't mean going out and spending thousands on an executive oak desk or renovating the house to add a new room. But it does mean finding a designated space where you're not staring at a sink full of dishes or laundry basket full of clothes.
To help you set up an office where you can be most productive (and comfortable), we've pulled together some affordable cozy home office decor essentials.
Of course, since we're all about plants here, you can see a bit of a theme.
(product links below image)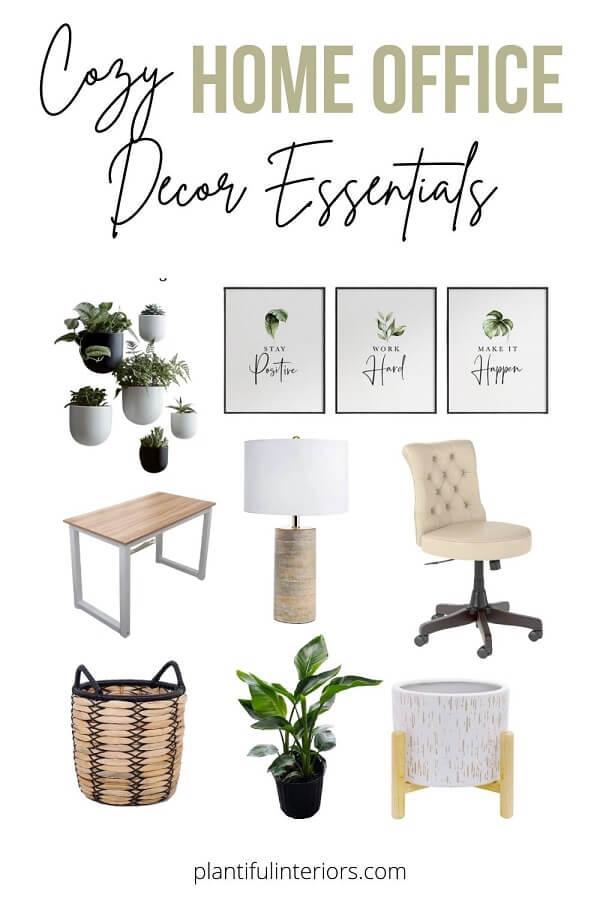 Desk: Wood Computer Desk Study Table from Walmart
Chair: Mid Back Tufted Office Chair from Walmart
Lamp: Wood Table Lamp from Nordstrom Rack
Wall Art: Stay Positive, Work Hard, Make it Happen from Etsy
Wall Planters: Ceramic Indoor/Outdoor Wallscape Planters from Williams-Sonoma
Bird Of Paradise Live Plant: from Etsy
Plant Stand: Round Ceramic and Wood Planter & Stand Set from Walmart
Large Plant Basket: Woven Basket Planter from Walmart
Looking for other plants you can add to your office? Check out these articles:
6 Low Light Plants You Need to Brighten Up Your Windowless Office
10 Best Succulents for Your Office