Why Use A Decorative Basket For Your Large Plant?
Houseplants have become one of the biggest trends in home decor this year and we're loving it!
We especially love the way large floor based plants look when planted inside a large neutral colored basket.
With the right decorative basket for your large houseplant you can easily transform a dull boring area in your home to an on-trend, vibrant focal point.
Use large floor based houseplants to easily fill an awkward empty space in your home.
We love using baskets for large plants is that they allow for the plant to be kept in its original container or repotted in a boring cheap pot.
Whether you've chosen a palm plant, fiddle leaf fig or any other tall growing plant, you're sure to find the perfect basket below.
This site features affiliate content. As an affiliate partner of various brands, we earn commissions on qualifying purchases, at no extra cost to you. Please read our disclaimer for more information.
Decorative Plant Baskets We're Loving + What Plant Goes Best With Each Basket
We know there are a ton of decorative baskets for large plants out there to choose from.
To make things easier we've compiled a list of our favorites and added a little note with our suggestions of which plants look great in each basket.
More colors and patterns available.
Looks fab paired with a Fiddle Leaf Fig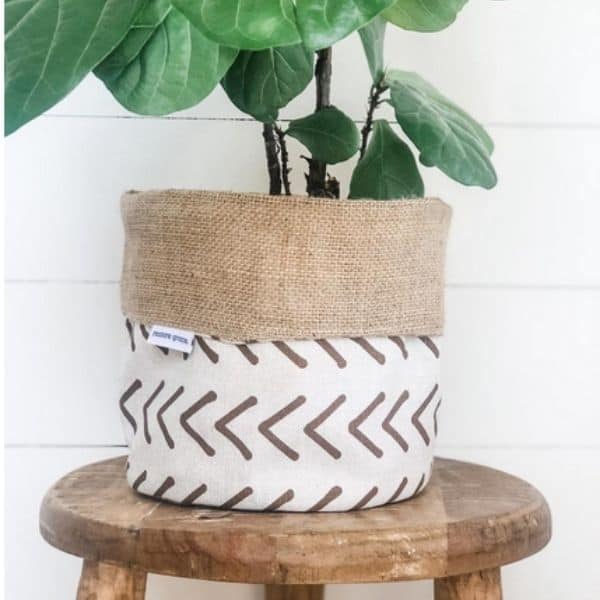 ---
Pair this beautiful basket with your favorite palm
such as a Majesty Palm or Areca Palm.
---
Opt for all natural color or two tone charcoal and natural.
Looks fantastic with a Birds of Paradise planted inside.
---
This basket had me at the tassels. Great for your bohemian decor.
Because of the depth of this basket you'll want a tall mature plant – possibly Money Tree or Umbrella Tree.
---
This tribal pattern looks ah-mazing paired with a large climbing pothos. Simply add a narrow trellis to your pot to keep your pothos upright.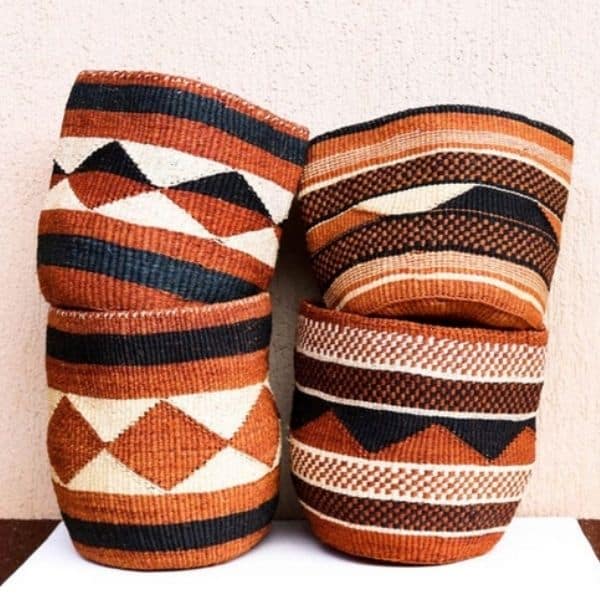 ---
This simple boho look will fit with many decor styles
Use for your taller skinny plants such as a fiddle leaf fig or ZZ plant.
---
The perfect match for any decor.
Place a Peace Lily inside for a simple yet sophisticated look.

---
The trusted wicker basket is a favorite planter for many.
This planter looks good with pretty much all plants but if we had to pick just one we'd go with a Weeping Fig for a nostalgic look.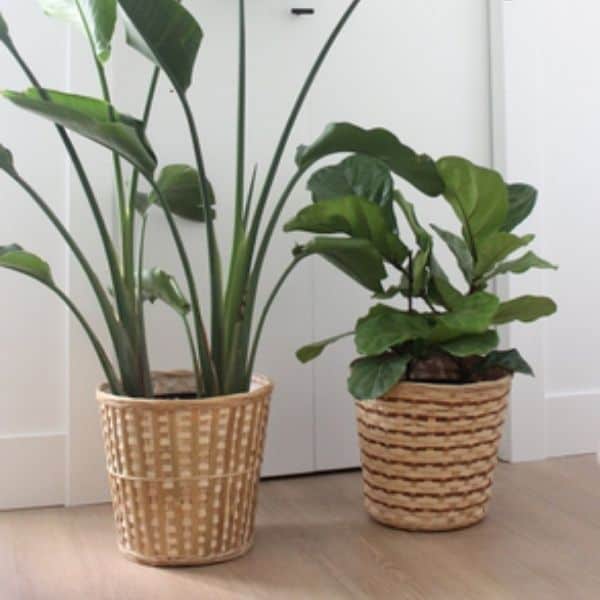 ---
This soft, lightweight plant basket will look gorgeous in the
corner of your living room.
Try it with a Rubber Tree, the basket will perfectly hide the ugly pot your plant came in from the store saving you from replanting if you choose.
---
This high quality cloth planter is absolutely stunning.
Add a low maintenance Calathea plant to this stunning planter basket for a soft look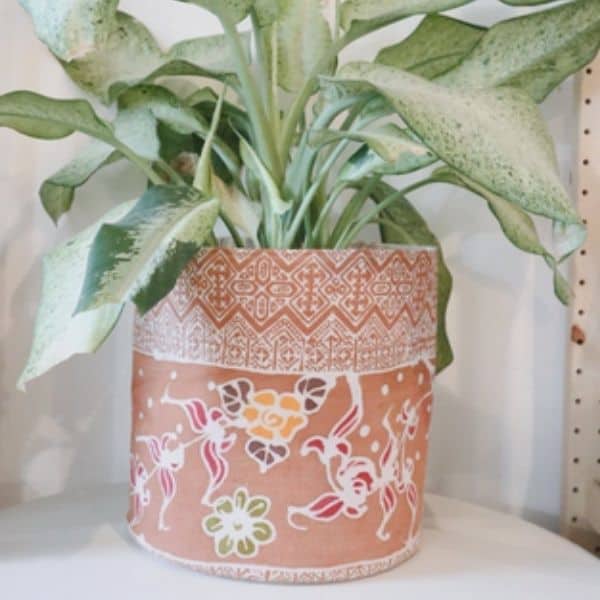 ---
If you're looking to create a eco-friendly vibe, this is the basket for you!
Match it with a vibrant payer plant to help clean the air in your home.
---
Create a chic modern vibe in your 2 piece bath with this stylish planter.
Toss in a cast-iron plant which can tolerate low light conditions and will grow 2-3 feet tall.
We love hearing from you. Drop a comment below with which of these decorative baskets for large plants is your favorite and what type of plant you'd put in it.
For Other Plant Decor Ideas Check Out These Articles:
6 Ways To Decorate Living Room Shelves
10 Best Bedroom Plants To Spruce Up Your Decor
10 Decorative Indoor Hanging Planters & Where To Hang Them