Gifts for plant lovers
People who love plants can sometimes be difficult to buy gifts for since these laid-back personalities may not demand much in the way of presents. But if you know someone who loves houseplants, this gives you a perfect insight into some great gift ideas for them.
Below you'll find 12 of the best gifts for indoor plant lovers.. Whether you're looking for a high-class piece of houseplant themed jewelry, or a high-tech planter they can connect to their smartphone, there is is a vast array of things to buy for plant lovers.
This site features affiliate content. As an affiliate partner of various brands, we earn commissions on qualifying purchases, at no extra cost to you. Please read our disclaimer for more information.
Top 3 Picks
Grow lights help plant lovers keep all types of plants regardless of how much sun their place gets
Why They'll Love It:
Economical way to give plants the light they need at all time of year
Produce minimal heat, won't dry out plants
Adjustable, can be used on plants of different heights
One of the biggest challenges for plant lovers who love houseplants is that many species of houseplants will not thrive unless they get plenty of full-spectrum light like they would from natural sunlight.
For people without many windows or natural lighting, this can make keeping houseplants alive a real struggle.
Luckily thanks to LED technology, there are indoor grow lights available that provide the entire spectrum of light that all houseplants need. So, your plant lover can keep a wider variety of plants indoors without having to worry whether they're close enough to a window to thrive.
This adjustable gooseneck grow light features four light bars that can be moved to allow any configuration of nearby houseplants to receive the light they need to be lush and healthy.
Mini greenhouses let plant lovers keep their collection contained
Why They'll Love It:
Keeps houseplant collections contained to avoid visual clutter in the home
Helps trap humidity around houseplants and keeps them healthier
Keeps plants off wooden furniture or other surfaces that could be susceptible to water damage when caring for plants
While many people may think of greenhouses as a way for gardeners to get their seedlings started during the colder months of the year, houseplant enthusiasts can also benefit from having a greenhouse set up in the home.
Here is a four-tier mini greenhouse from Home-Complete that allows plant lovers to keep all their favorite plants in one easy-to-show-off portable display. Hands down, this is one of the best presents for plant lovers.
A fancy watering can will make houseplant maintenance feel luxe
Why They'll Love It:
Long neck makes it easy to reach under leaves to water soil directly at the base
Modern design is sophisticated and stylish
Made from copper, durable and won't rust
Most people don't think of doing house chores as fun, but there is something enjoyable to plant lovers about going around to each of the plants in their collection to straighten them up and provide some much-needed water.
While cheap plastic watering cans abound, these cans are usually not very durable (leading to indoor leaks), and they're just not that nice to look at most of the time.
Gifting an indoor plant lover a fancy watering can such as this art deco style copper watering can will make the task of watering their plants even more enjoyable. This can more durable than your typical cheap plastic watering can, and it's much more decorative for displaying around the house.
Matching earrings and necklace for the stylish plant lover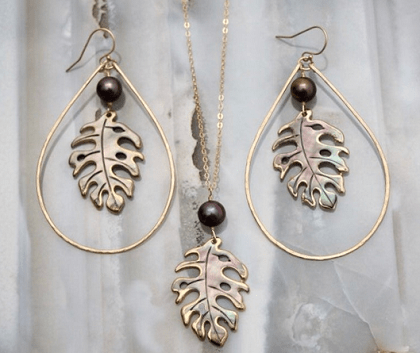 Why They'll Love It:
Handcrafted
Elegant look, matching set of earrings and necklace
Made with gold filled wired; lightweight
If the plant lover in your life already has more plants and plant accessories than they know what to do with, plant jewelry can be a great gift option that stays in the spirit of what they love.
These silver monstera-themed earrings from Etsy are sure to impress even the hard-to-shop-for plant lover. Because they're a bit more expensive than the rest of the gifts on this list, they're perfect for a special occasion.
30 day programmable drip irrigation kit perfect for the traveling plant lover
Why They'll Love It:
Provides peace of mind knowing plants will be cared for while away
Uses 70% less water than other drip heads
Battery back up, will continue to work even if the power goes out
Easy to set up and easy to read LCD screen
One of the biggest stressors plant parents face when planning a holiday is figuring out how to keep their plants alive while their away.
This programmable irrigation kit will ease a plant lovers mind, making planning a vacation easier. Knowing their plants will be watered appropriately your plant lover will be able to relax and enjoy their holiday.
A hydroponic smart garden makes houseplants easy to care for
Why They'll Love It:
Reminder system that tells the gardener when to add food or water
Automatic lighting system
Comes with a bottle of plant nutrients to grow plants from seed
For those plant lovers who want to grow things inside but have a limited amount of time or energy to dedicate to the task, a hydroponic garden such as this AeroGarden can help take a lot of the fussing out of dealing with growing indoors. Perfect for cooks, an AeroGarden comes with a gourmet herb seed kit so that gift recipients can grow some fresh cut-and-come-away herbs for their cooking needs.
This is one of the simplest ways for plant lovers to indulge indoors with no soil, no mess, and no fuss.
A houseplant coffee table book – great for plant lovers who have an abundance of plants (though they'll never admit to having too many)
Here are a few great coffee table books about houseplants:
You might be tempted to give a plant lover yet another houseplant. However, if the plant lover in your life already has more plants than they can reasonably handle, another option is to give them something houseplant-related that they can still enjoy (without having to take care of it).
A high-quality coffee table book about houseplants is a great way to indulge their hobby without adding to their plate.
A rustic welcome wall planter to decorate your plant lovers entryway
Plant lovers will bask in the joy of this unique plant decor piece to hang in their entryway. This welcome sign terrarium will help plant parents display their favorite air plants and give their home decor a fresh welcoming feel.
Perfect as a housewarming gift or for any holiday.
For a more DIY type gift with a special touch, gift this item already put together. Tuck some funky air plants in a layer of colorful gravel on top of colored sand. Base your display on the occasion or season.
Bonsai Kits Are A Fun Activity for Plant Lovers
This bonsai kit contains everything they'll need:
Five seeds for four different species of bonsai
Pots and drip trays
Growing medium
Instructions for growing
Bonsai fertilizer
Many people get into houseplants but may be intimidated by the thought of taking on a Japanese bonsai. This home-grown bonsai kit can make a great introduction into the world of keeping bonsai even for people who may be more used to traditional houseplants.
For those plant lovers who have expressed a desire for a bonsai tree but haven't managed to buy one, this gift set is a great way to get them off on the right foot!
Propagation kits help plant lovers start new plants from cuttings
Why They'll Love It:
Will help your plant lover grow more plants for their cuttings of cuttings from friends
Classy look, blends nicely with various decor styles
Comes with rooting hormone and propagation instructions for beginners
For plant lovers who enjoy taking cuttings of plants and nursing them into a healthy specimen, this arch propagation kit
Why They'll Love It:
Great way to add to their collection and learn about new plants
Comes with plant care instructions
Succulents are small and versatile, making them easy to match with all decor styles and spaces
Subscription boxes for plant lovers is another one of our top gift ideas.
If you know someone who loves plants but hasn't amassed a large collection yet, a plant subscription box can help them grow their collection and also extend your gift into months of enjoyment. Plant subscription boxes deliver new plants to the recipient once a month, giving them something to look forward to in the mail.
A houseplant masterclass is a great gift for serious plant lovers and plant beginners
Some people collect a few houseplants and call it a day, but for others, the hobby becomes almost a calling. For those plant lovers who are deep into their horticulture hobby, gifting a masterclass in houseplant care can be a brilliant way to show how you appreciate their dedication to the art of caring for indoor plants.
This houseplant masterclass by Summer Rayne Oakes teaches plant lovers about hundreds of common houseplants and their care. It also helps teach plant lovers how plants impact our home environment and how they help us stay connected to our natural environment.
Don't forget the plant themed gift wrap, card & bag stuffer
These are just a grew thoughtful gifts for the plant lover in your life
If you need to buy a gift for a plant lover in your life, you're in luck because there are plenty of good houseplant-themed gifts to choose from.
Whether you need something simple for a housewarming gift or you're looking for the perfect plant gift for that special horticulturist in your life, you're sure to find something for everyone!
We hope this list of thoughtful and unique gift ideas for plant lovers took the guess work out of what to get for a plant lover in your life.
Related Reading:
Best Cactus Themed Gifts
50+ Cute & Funny Plant Sayings