With the holidays just around the corner it's time to start thinking about your holiday decor.
This year, why not try something different?
This article will walk through how to make a succulent wreath that will blow your guests away.
This DIY wreath has definitely turned out to be one of my favorite holiday crafts, bringing together two of my greatest loves: succulents and easy decorating.
But, while this may look like a quick and simple craft (which it is, we'll get to that momentarily), it's also a lesson in giving these fun and unique plants exactly what they need so that they'll survive on your door throughout the holiday season.
This site features affiliate content. As an affiliate partner of various brands, we earn commissions on qualifying purchases, at no extra cost to you. Please read our disclaimer for more information.
How To Care For A Living Succulent Wreath
Succulents have very different growing habits and needs that you may not expect, especially when you see them them hanging from a wreath or planted in a piece of driftwood that many trendy magazines or online media show.
To keep your succulent wreath healthy and vibrant, you'll need to know how to care for living succulents and provide them with a sustainable living habitat that will keep them flourishing.
You'll want to build your succulent wreath to last for many weeks, not just long enough to take a few pretty pictures to post on social media.
So, how are we going to keep our succulents alive on our wreath?
Simple: reindeer moss.
Moss is a fantastic medium for succulents to help their roots continue to soak up water and thrive for a period of time (say the length of the holidays, for instance).
However, it's worth noting that this is not a sustainable long-term planting method for your succulents as they will outgrow their setting and will need to be removed and repotted in a succulent potting mix.
Additionally, even using the reindeer moss as a medium, you will need to mist your live succulents and the moss regularly (though not so much as to overwater them).
And finally, to help your plants thrive throughout the holidays, you'll also need to make sure that your succulent wreath is getting plenty of light. This will help with their photosynthesis (obviously) but also helps the plants kept in this manner to avoid root rot and eventual death.
So, if your porch is in continuous shade in the winter months, it may be worth moving the wreath to a brighter location, say in a window or elsewhere.
Now that you know how to care for your live succulent wreath it's time to dig into how to make a succulent wreath for Christmas.
Let's get crafting!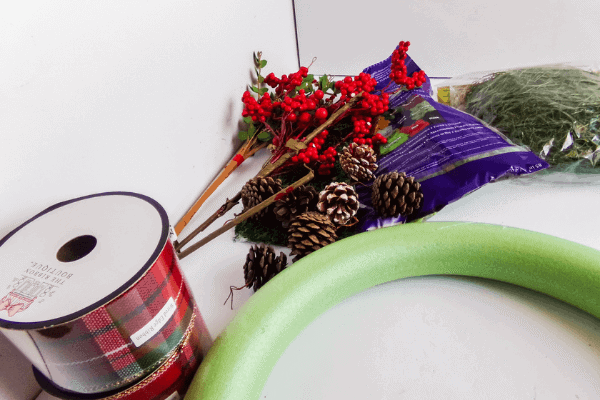 How To Make A Succulent Wreath
Supplies
12-inch round foam wreath form
5 to 10 succulent plants (varied sizing)
10 Floral Greening Pins (I use these ones from Amazon)
1 – 400 yd 3 inch roll plaid ribbon
Small amount of 1 inch gold sheer ribbon
Reindeer moss (I used this one, available in variety of colors)
Floral wire
Pine cones
Faux berry bunches
Tools
Scissors
Hot glue gun & glue
Wire cutters (optional)
Instructions
1. Hot glue one end of the ribbon to the foam wreath form. Allow the hot glue to cool completely so that it holds the ribbon snugly in place.
2. Wrap the entire wreath in the ribbon, covering the entire form. If desired, you can add spots of hot glue throughout to help hold down the ribbon, but I don't find this to be necessary if you hold the ribbon snugly against the form as your wrap.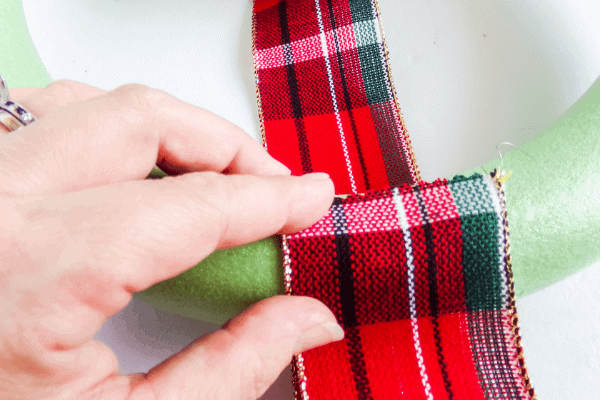 3. Trim the end of the ribbon and hot glue it in place on the back of the wreath form, to hide the join line.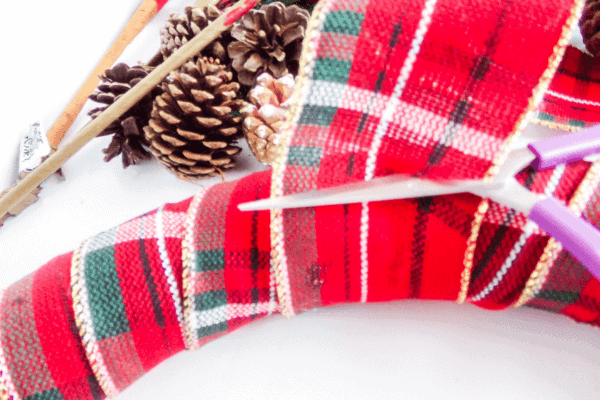 4. Make your bow by wrapping the plaid ribbon in 3-4 inch loops in one hand 4 times, then repeating with the gold sheer ribbon 5-6 times, stacking the gold ribbon behind and among the loops, then adding 4-5 additional loops of plaid ribbon behind that. Wrap a floral wire around the base of the bow to hold it in place.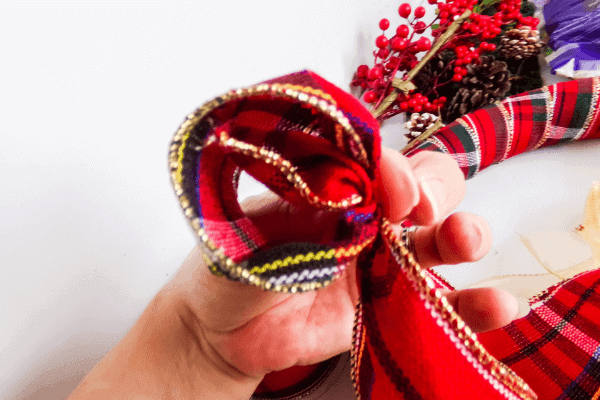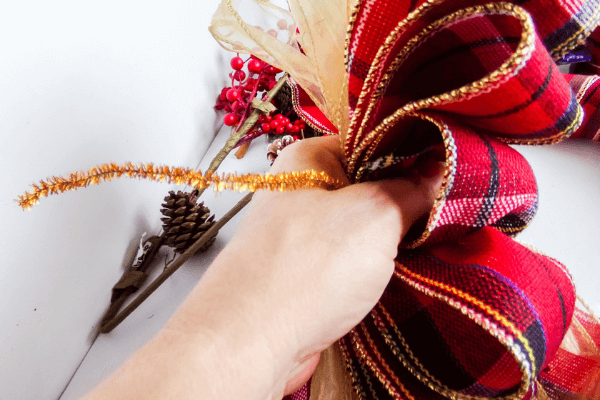 5. Using both of your ribbons (plaid and gold), add 3-5 5-inch long strips to the back of the bow, using the floral wire to hold them in place.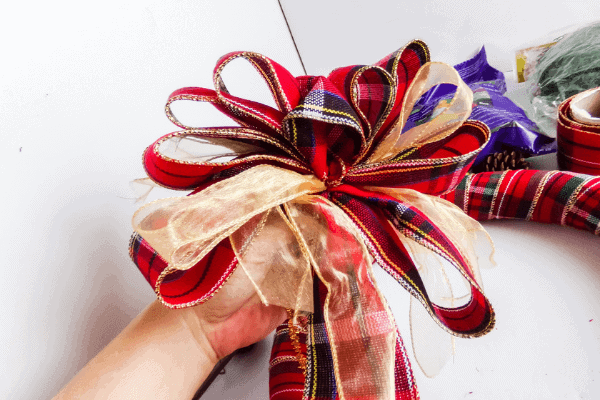 6. Place the bow in the center of the area in which you want your focal point of the wreath to be and, using the floral wire holding the bow together, affix the bow to the wrapped wreath form.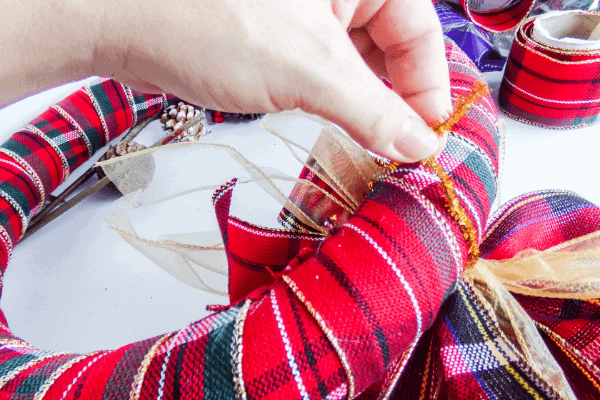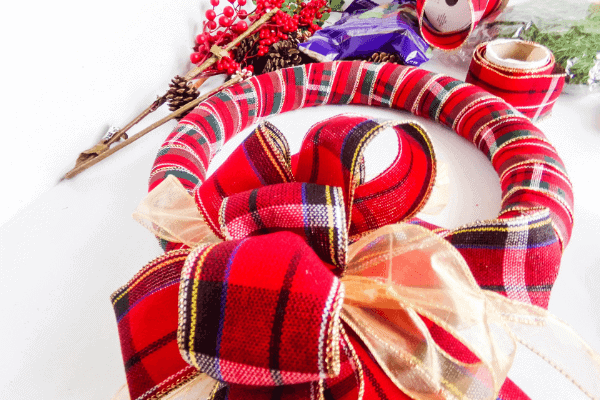 7. Prepare your succulents by removing them from their pots and brushing off as much of the dirt as you can. Trim back the roots if they're large, as they will regrow over time.
We recommend using one trailing succulent, a large rosette shaped succulent and a couple miniature succulents.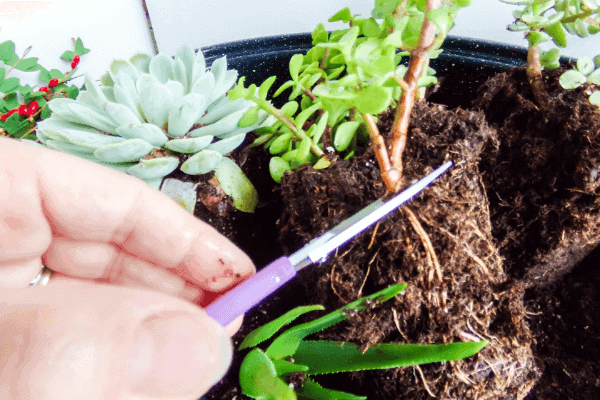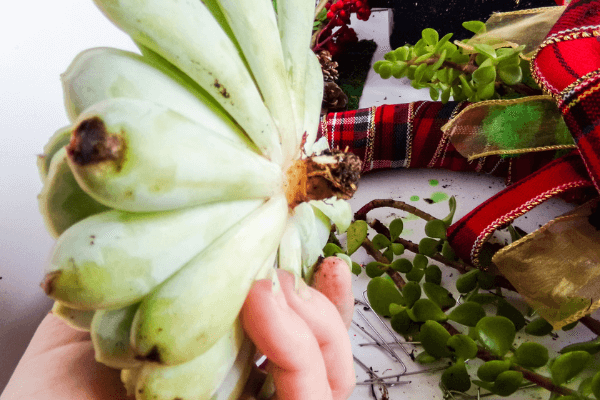 8. Wrap each succulent's trimmed root base in a bit of moss. The moss is important because it will give the growing roots something to hold onto and the moss will hold water as well, allowing the succulents to get the moisture they need, but also drying out so that the plants don't get too much water.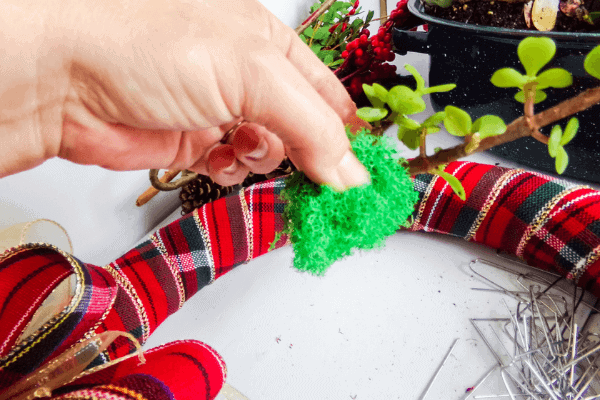 9. Using your floral greening pins, wrap the two sides of a pin around the moss-covered roots of your largest succulent and insert the tines of the pin into the wreath form, close to the bow.
10. Repeat on the opposite side of the bow with the second largest succulent, inserting the pin into the wreath to secure the succulent to the wreath, then work your way down with smaller and smaller pieces of succulent, filling in any areas that seem "bare†in between large succulents with smaller succulent plant pieces, covering about ⅓ of the wreath with succulent and bow.
Related Reading: How to Grow Succulents Indoors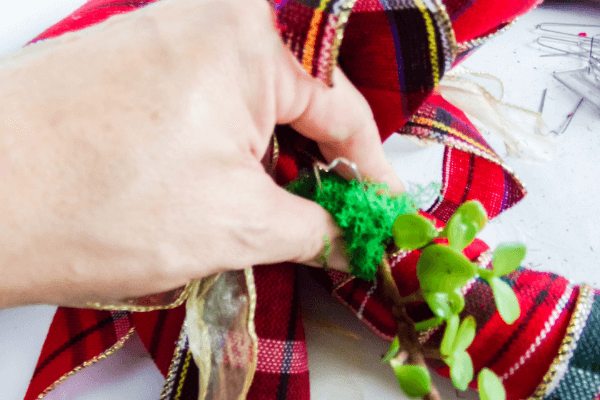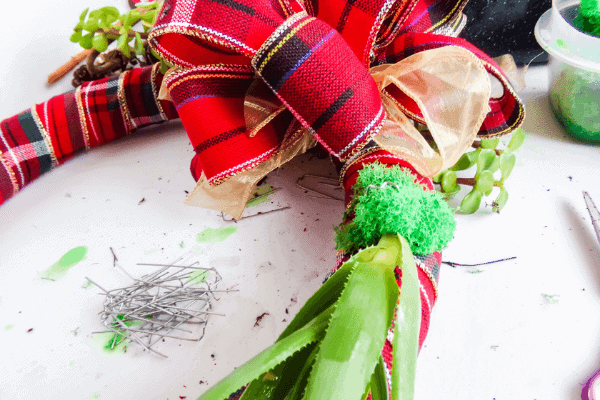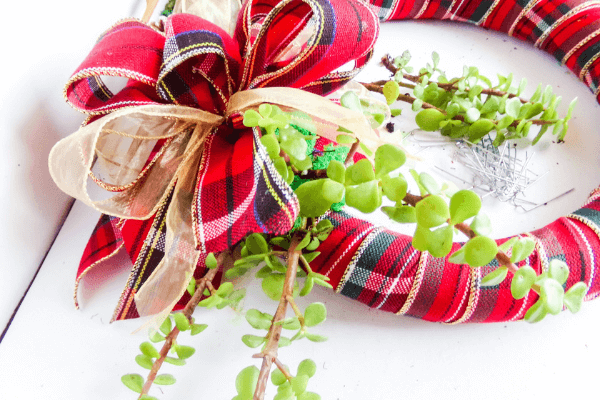 11. Hot glue the pine cones where desired, adding the little berries in randomly around the bow and succulents.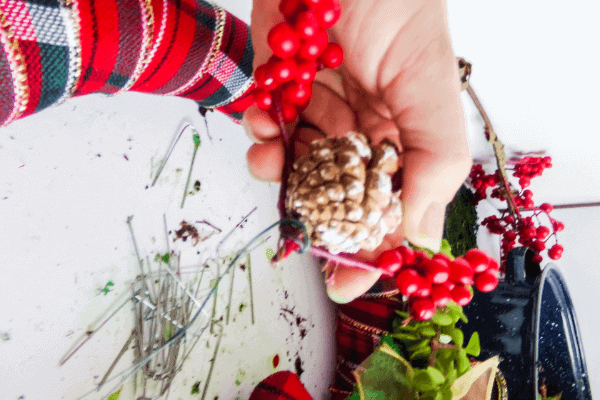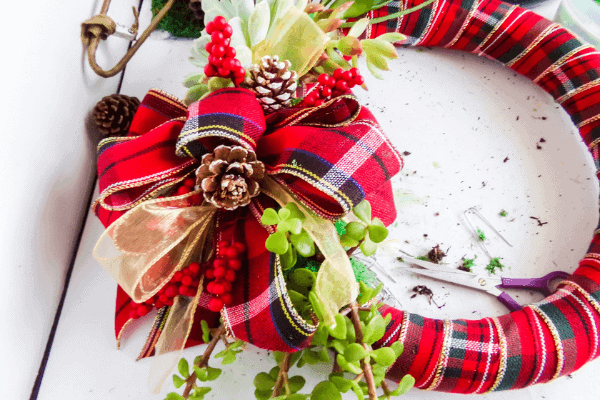 12. Tie a 12-inch long piece of the plaid ribbon around the top for a hanger and enjoy!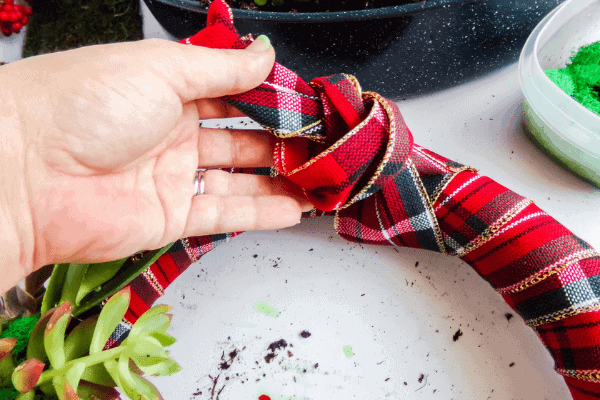 You're finished! You should now have a stunning DIY Living Succulent Wreath to add to your Christmas decor. The great part about this wreath is you can make it for any holiday by simply swapping out the style of ribbon.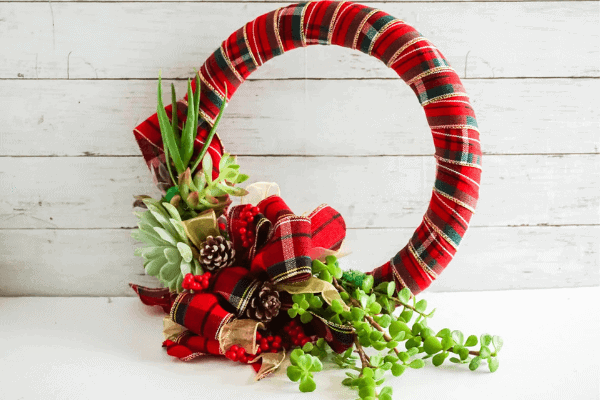 If you loved this project as much as I do, be sure to pin it to your favorite holiday DIY ideas board on Pinterest so you can find it again quickly when you're ready to make your own holiday succulent wreath!
I'd love to hear how your succulent wreath turned out, drop me a comment below.