Do you have a couple of climbing houseplants that need some help being able to actually climb up rather than droop over? An easy DIY moss pole will do just this.
Learning how to make a moss pole was a super simple DIY activity that has huge payoffs. Not only will your homemade moss pole help your plants climb and stay upright, but it also looks really cool.
Plus, I just enjoy having the addition of moss as part of my plant's aesthetic appeal. Instead of having a monochrome plant of just one flavor, you get a nice combination of plant plus moss. It's just so visually appealing to me to have that mixture, I love it.
This site features affiliate content. As an affiliate partner of various brands, we earn commissions on qualifying purchases, at no extra cost to you. Please read our disclaimer for more information.
Benefits of Sphagnum Moss Poles for Climbing Plants (or any plant that needs help staying upright)
Moss poles provide support to your plants and helps train them to grow upwards.
Another benefit to adding a moss pole to your plant is that moss will ensure budding roots stay perfectly moist – not too wet and not too dry.
Moss is a fantastic medium for climbing vines (or any new growth on plants) and is easy for your plant to affix itself to.
If you don't have any climbing plants, this how to make a moss pole tutorial is perfect for monstera's as well as any other tall plants that are starting to droop.
As much as moss is highly beneficial in providing moisture and nutrients to your plant, it's worth noting that this is not a sustainable long-term planting method. This means you can't just plant your whole plant in moss, as the plant will outgrow the setting and need to have a full potting mix to support the growth of a whole-healthy plant. But, if you're looking for how to help your plants climb, moss is perfect!
Additionally, one more thing to note is that, even though we're using the moss as a medium to promote climbing growth, you will want to mist your new shoots and leaves, including the moss, frequently (though not so much as to overwater them). Moss is excellent at retaining moisture but it will eventually dry out. Aim to keep your moss pole moist but not soaked.
Now with all of that being said, how do you make a moss pole for climbing vines? Let's get crafting.
How to Make a Moss Pole for Climbing Vines
Gather Your DIY Moss Pole Supplies
First things first, I like to gather all of my supplies together and in one place so I don't have to stop mid-project to run and grab whatever I'm missing. This way I give all of my attention to my project and not worry about having to put something down to go look for what I need next.
Supplies
To make a moss pole, you're going to need:
Wood stake (I used a piece of ¾-inch plywood cut to a point on one end about 18 inches long – length will vary based on height of your plant)
Sphagnum moss (about 6-8 cups when dry, it will shrink to 4-5 cups when wet)
3-4 cups of water
Tools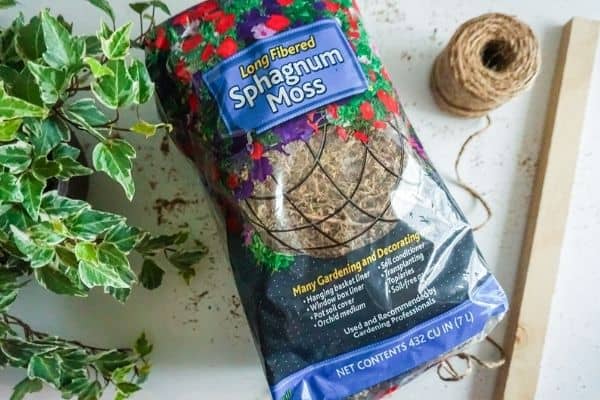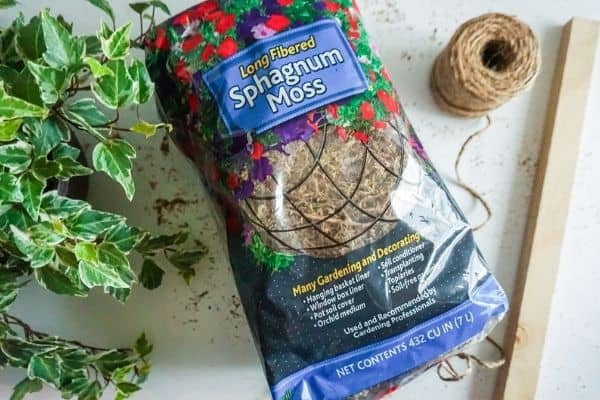 I used a wooden stake made from a piece of ¾-inch plywood cut to 1-inch wide and about 18-inches long.
Now, one of the things to consider when deciding how long of a stake you'll need for your plant is the size of your pot. You may want a taller moss pole than what I'm making in this tutorial. Just keep in mind that only so much of your stake can go into your potted plant – based on the depth of your pot. You want your pole to be tall enough for your plant to climb but not too tall that it becomes top-heavy and falls over. If you're repotting your plant, this is a perfect time to use a deeper pot that will allow for the taller moss pole.
Second, I grabbed this large bag of sphagnum moss from Amazon. The bag is fairly inexpensive and you get a lot of moss so you can make multiple poles. You'll only need about 6-8 cups of sphagnum moss per pole when dry, it will shrink to about 4-5 cups when wet.
If you don't have an Amazon order going in anytime soon (I tend to order weekly) you can also find sphagnum moss in the gardening section of your local home improvement store.
I selected this type of moss so that I wasn't getting the type that's dyed (like what you'd find at the craft store, for example) or that was treated for insects (like what you might find at the pet store, for example).
You'll also need some twine (the thickness doesn't really matter, just regular twine) with a pair of scissors to cut it; and some water to wet the moss down, along with a bowl to do that in.
Once you've gathered all of your supplies, it's time to get to work.
DIY Moss Pole Step-By-Step Instructions with Pictures
Step 1. Place the moss in a bowl, pour the water over it. Allow the moss to soak for about 5 minutes.
The moss will soak up the water and you'll be left with very pliable moss that's easy to work with.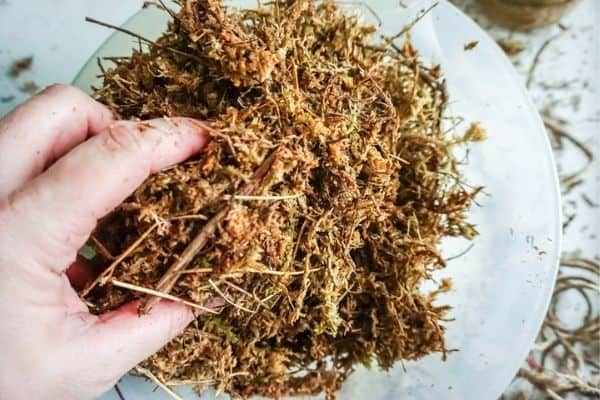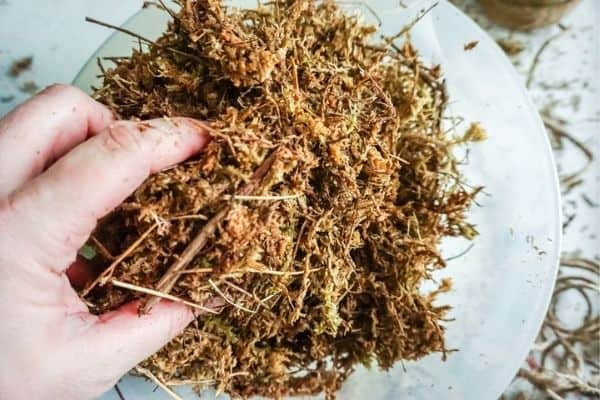 Step 2. Measure the depth of your plant's pot. If it is 4 inches deep, this is how far up from the spiked end of your stake you'll start tying your moss onto. If it's 5 inches, start 5 inches up, and so on.
Step 3. Once the moss is ready, tie the twine to the base of your stake based on the measurements you just did. I started mine about 4 inches from the spiked-end.
The reason you're tying the twine on first is to hold it in place as your wrap it around the moss in the next step.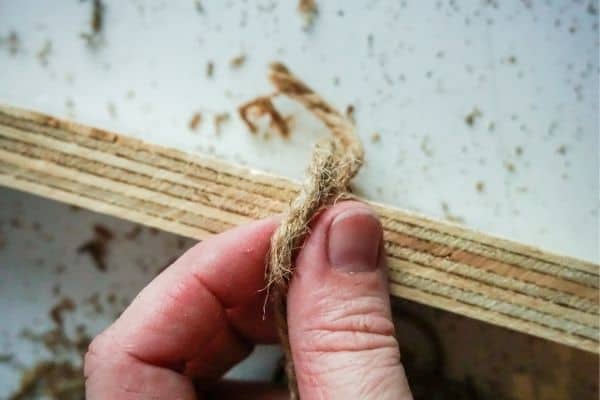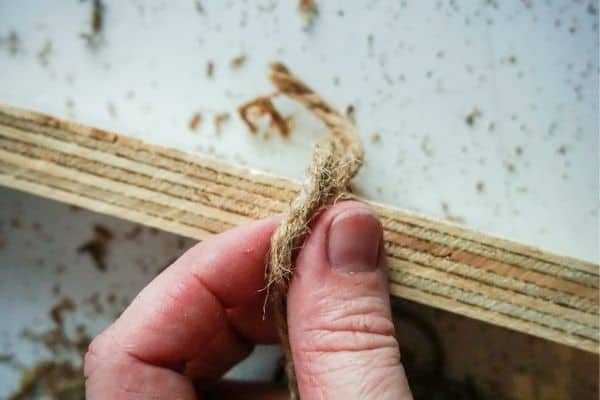 Step 4. Take a small handful of moss (about ⅓ to ¼ cup) and place it against one side of the stake, then immediately wrap the twine around the moss snugly to hold it onto the stake.
Rotate the stake and repeat.
Continue moving up the stake, covering the entire stake in small 4-inch sections as you wrap the twine over the moss, holding it to snugly the stake.
You'll want to work while holding tension on the twine, and if you need to pause and step away from making the moss pole, you'll want to tie-off the twine before loosening the tension or your moss will just fall off the stake.
Make sure to use enough sphagnum moss in each section so it is thick and fully covers the wood.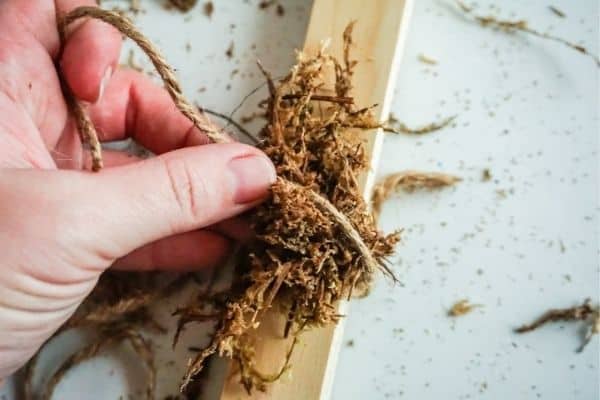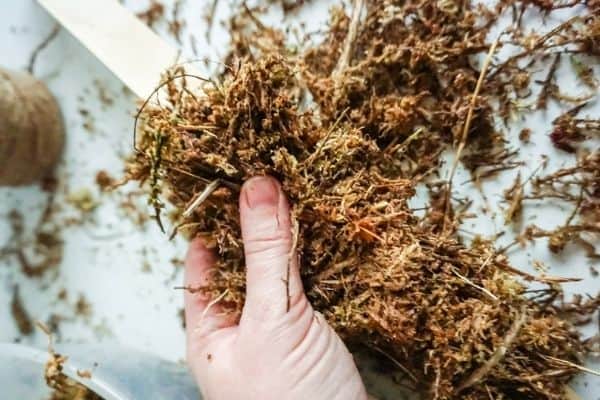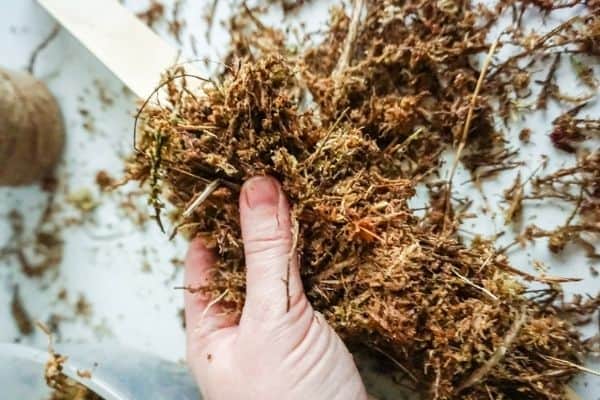 Step 5. When you reach the top of the stake, place about ½ cup of moss on the top of the stake, covering the end.
Wrap your twine around the top of the stake, then work it over the end of the stake, then down to the bottom where you started.
Tie your twine off about 4 inches above the spiked end, close to where you started – this way the knot is more likely to be hidden by the plant instead of at the top where it's clearly visible.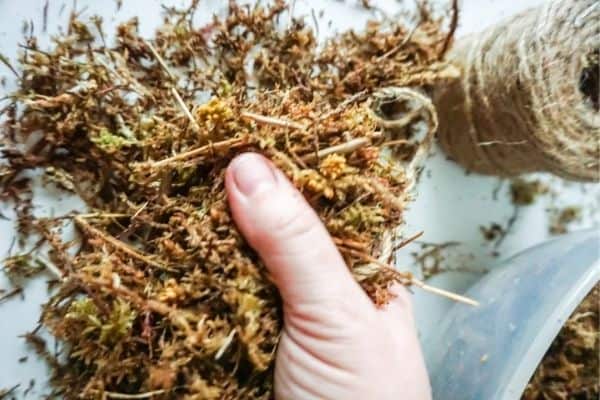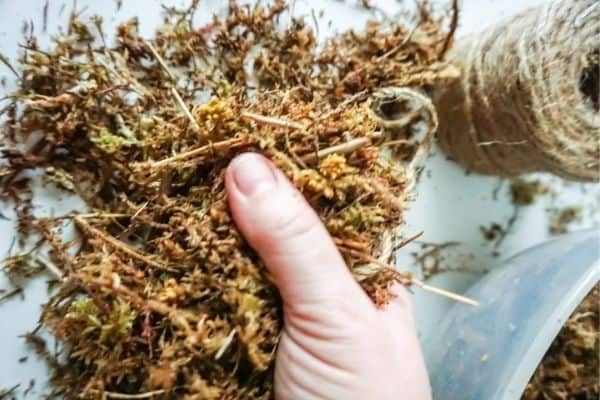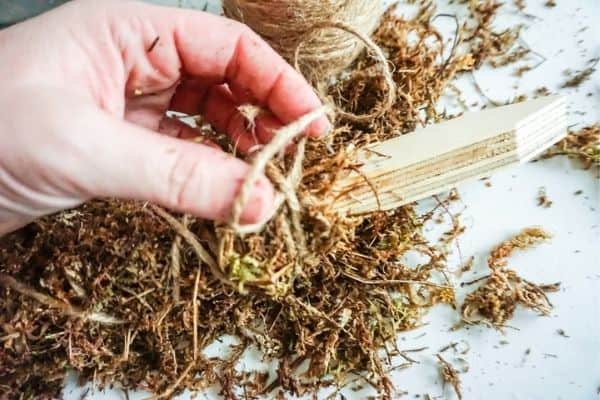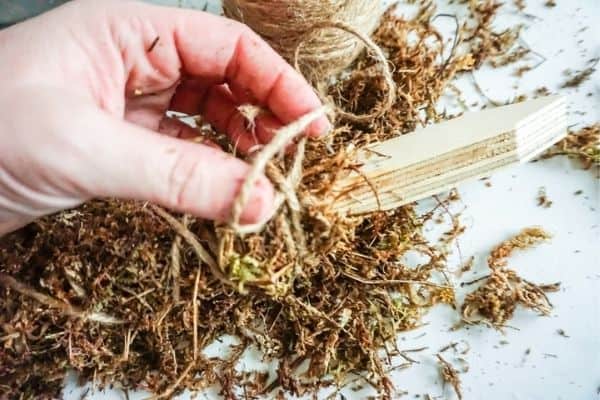 If the pole seems a little sparse, has any bare patches, or just isn't as full as you'd like, you can go back and add more moss by just tying it on with more twine or by tucking it up under the twine you already tied-on.
Step 6. When the moss pole is ready, firmly press the stake's pointy end into the center of your potted plant, pressing it deep enough into the soil of the potted plant that the moss pole won't fall over. Then enjoy!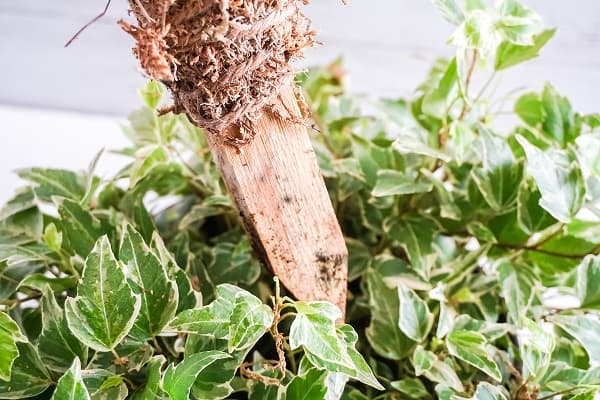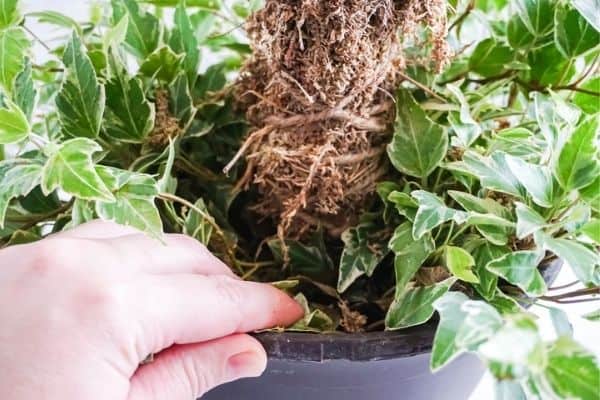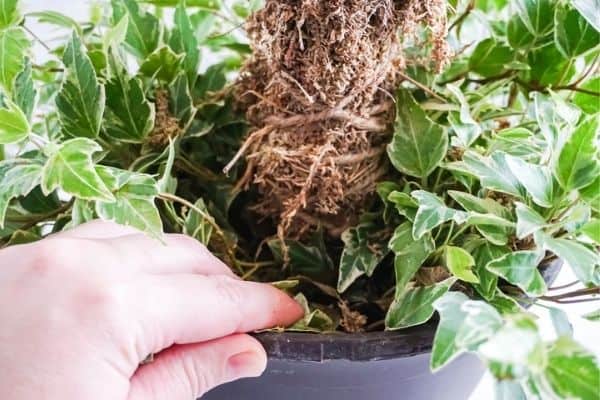 If you're placing your sphagnum moss pole in with an already established plant, you may need to use twine or ties to attach the plant's vine or stems to the pole until it learns how to affix itself.
Voila! You now have a beautiful DIY moss pole that is not only great for your plants but also looks funky.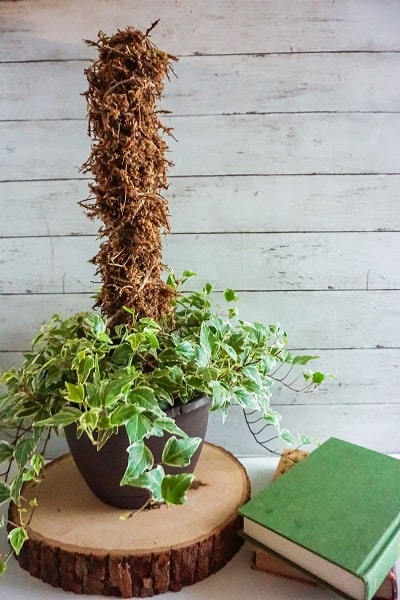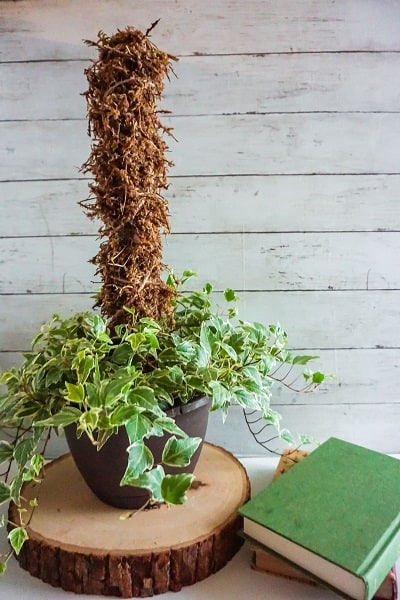 So, now you know how to make a moss pole for your climbing plants, monstera, or any other tall plant that needs a little support. Wasn't it an easy and fun DIY project?
I hope you love the way your sphagnum moss pole looks in the center of your plant.
I feel like you can make these so fast that you could make a moss pole for every plant in your house in just a few minutes.
If you loved this project as much as I do, be sure to pin it to your favorite DIY ideas board on Pinterest so you can find it again quickly when you're ready to make a moss pole again!
More Plant Decor Articles:
12 Stunning Indoor Vine Plants
How To Make A Succulent Wreath
10 Decorative Indoor Hanging Planters (and where to hang them)