With more of us spending our annual leave at home than ever before, it might sometimes feel like you're missing out on the parts of a vacation that make it feel, well, like a vacation. So how do you bring the sun, sea, sand and tropical vibes into your home without moving to Hawaii? 
Simple! 
By adding some tropical plants and decorations to your house or apartment, you can make your home feel like the hidden little holiday gem you've been dreaming about. 
And the best part? 
No expensive flights to get there! 
Let's take a look at some of these clever touches that you can add to your home today. 
You'll be dusting off that bottle of sunscreen and making Margaritas before the end of the day. 
This site features affiliate content. As an affiliate partner of various brands, we earn commissions on qualifying purchases, at no extra cost to you. Please read our disclaimer for more information.
Tropical Plants for your Staycation Decor
Tropical plants are all the craze lately and it's easy to see why.
When traveling to a tropical resort, you're sure to be surrounded by palm trees and vibrant plants.
Thankfully, it's easy to bring some of these tropical feels into your home after a quick stop at your local home improvement gardening center.
Add any of these 5 plants to your tropical staycation decor shopping list…don't worry, many of these houseplants are budget friendly.
Lemon Lime Dracaena Plant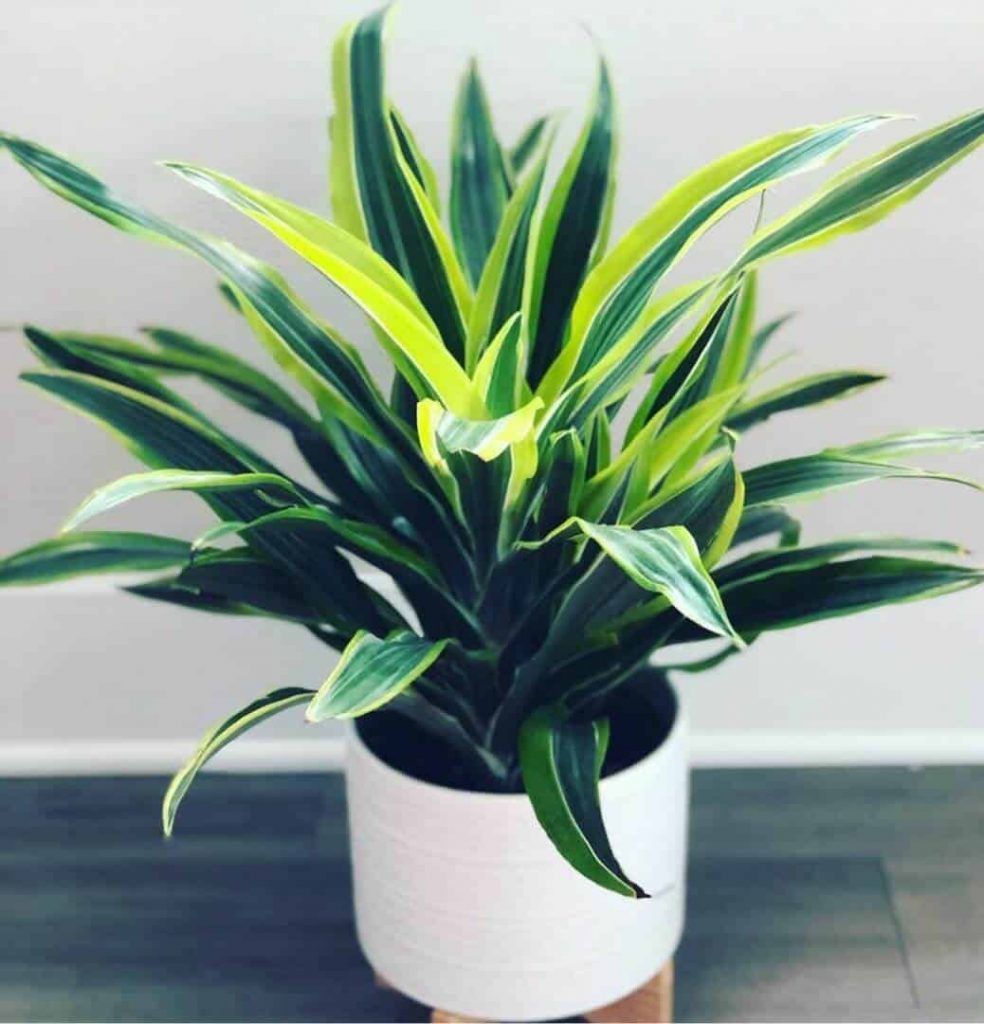 Native to Africa, this beautiful striped plant with lemon/lime yellow and green coloring is perfect for adding a little of the exotic to your space. 
Easy to care for, this gorgeous plant boasts long, sword-like leaves and can reach up to 7ft in height. 
It likes to be kept in a bright, sunny spot with indirect light, but can adapt to lower-light surroundings. 
Place in the corner of your living room in a contrasting-colored pot to really make those yellows and greens pop. Find more information on how to care for your pretty new holiday romance at HousePlant411. 
Sago Palm
Inviting images of sunny beach walks and cocktails by the coast into your home has never been so easy; simply pop a sago palm in the entrance of your house or apartment and watch the space transform into a vision of a luxurious Caribbean hotel lobby. 
Part of the Cycad family of plants, these palms are said to have been around since the Jurassic age. Originally from Southern Japan, the sago palm is hardy, tough and relatively easy to care for. 
Put it in a sunny place and water the plant only when it's dry 1 to 2cm below the soil line; over-watering will lead to root rot very quickly. 
One thing to note is that, while this palm is stunning, she has a bit of a nasty side too. 
Avoid this plant if you have young children or pets in your home, as all parts of it are poisonous if ingested. 
Hawaiian Ti Plant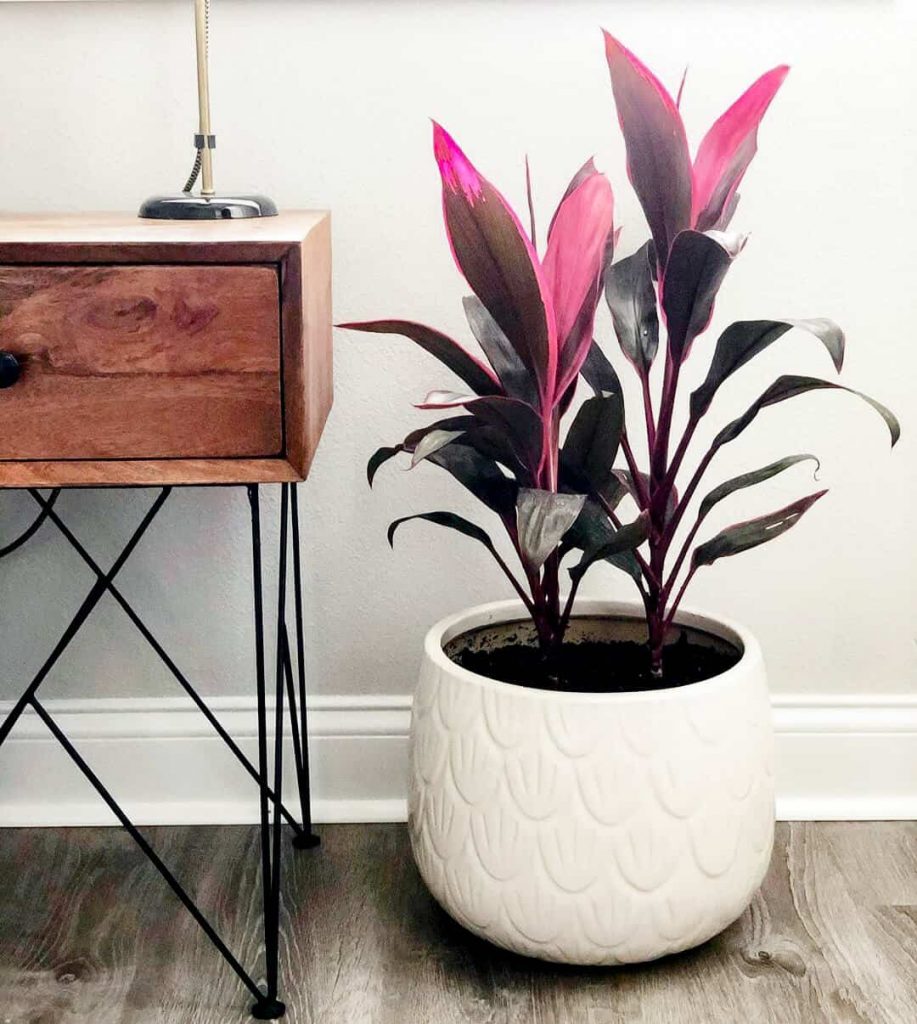 Nothing says "tropical getaway†like the word "Hawaiiâ€. 
Think Mai Tais and white sand pushing up through your toes on a beach at sunset. 
Bliss, right? 
If you can't quite make it to The North Pacific this year, why not bring a little taste of Hawaii into your home with a Hawaiian Ti Plant? 
Available in multiple colors, including red, orange, and pink, this vibrant gem will add a splash of tropical zest to any dull corner. 
Take care to make sure it's never left in temperatures below 50F, and let the soil dry out completely between waterings. 
Plant in a small pot and place on a stand or shelf and admire it as you read that novel you've been wanting to get around to for months now. 
Or, let it grow in a large pot, and see it reach a height of 8ft or more. 
If you happen to live in a warm, sunny climate, plant it outdoors and enjoy the greeting of this stunning, happy, zesty plant every time you come home.
Calamondin Orange 
This dwarf tree is the perfect addition to any room, and will even provide a snack while you admire the view! 
Native to China, this plant actually looks like it would be well placed in the Mediterranean. 
With its fragrant, delicate flowers and small tangerine-like fruit, the Calamondon Orange will bring the scent and taste of dreamy vacations in far-flung destinations into your mind, as you relax with a glass of wine. 
Sheer joy! 
This petite tree enjoys direct sunlight during spring and summer and will love some citrus-formulated fertilizer to really help it flourish. 
Place on a sunny windowsill, sit back and plan/reminisce about your next trip abroad. 
Bromeliads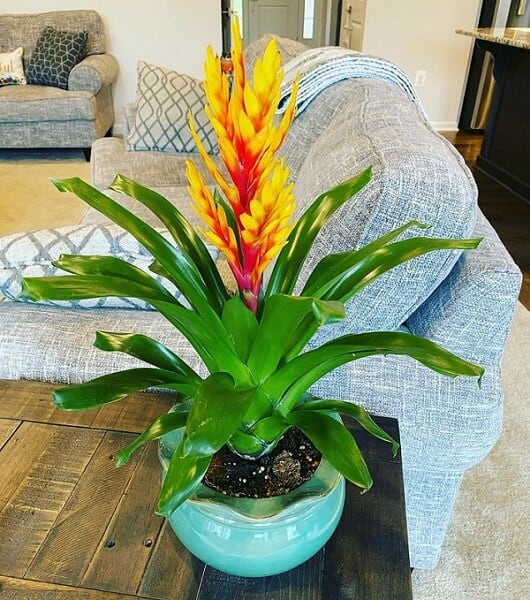 These stunning flowering plants can't help but get you in a vacation mood. 
Available in an array of different colors, from red, green, and purple, to multicolored and even striped or spotted, these tropical beauties will make you want to drink something out of a coconut immediately! 
Caring for your Bromeliad will depend on which type you buy, but generally speaking, they like bright, indirect light and minimal water. 
Never let it sit in still water though, as the soil will get saturated and will damage your plant quickly. 
I've Got My Plants but Something's Missing…..
So your place is starting to look like something out of a travel agent's window, but you're not quite ready to start blaring Club Tropicana just yet. 
Something still feels like it's missing to complete your staycation. 
To really get into the holiday spirit, add these final touches to compliment your new tropical plants and get you feeling like you want to jump into a bikini….who cares if it's October, right?
Neon Lights 
The days of associating neon lights with cheesy 80s movies or seedy dive-bars are over; replaced with a new age of chic, stylish, retro-style lighting that turns a room into an event in an instant. 
Want to feel like you're in a cocktail bar by the ocean? 
There's a neon sign for that. 
Prefer the subtle hue of peachy pinks to remind you of a Californian sunset? 
There's a neon light for that too. 
Check out Neon Poodle for some lighting inspo and, if you're planning to revisit your "hotel†next year as well, why not consider investing in a totally unique, custom-made sign just for you?
Lantern Lighting
Everyone knows fairy lights can add a touch of magic, but they might make you think of Christmas and Alpine retreats, rather than hot, tropical getaways. 
If you really want to feel like you're in a little retreat somewhere below the Equator, try adding some colorful paper lanterns, or a string of lantern lights, to your holiday space. 
Check out these pins for some great examples of how to create fantastic lighting with lanterns. 
Conclusion
We may not be able to get away for that beach break this year, but with so many plants and decorations available, you can make your home feel like an exotic spa at a fraction of the cost. 
Just remember to turn up your heat so you don't get cold sipping Mai Tais in your bikini while enjoying your stay at Los Living Room.
Written by: Alyx Tzamantanis
Author Bio: Alyx Tzamantanis is a professional writer and English language teacher from London, UK. A guest blogger on multiple food and drink guides in London, she also enjoys writing about hair and beauty, lifestyle, plants, fashion and property. To contact Alyx, or to see samples of her writing, visit her LinkedIn profile, where she is definitely not wearing a wig.