Best housewarming houseplant gift ideas
Moving into a new home is an exciting time; a new space to decorate, a new neighborhood to explore, and a major milestone for many.
To help welcome your friend or family member into their new home, you want to get them the best housewarming gift. A gift that marks their new beginning and symbolizes change and good fortune.
Sure, wine is nice, but it's also common so you'll just be adding to the 15 other bottles the new homeowners are likely to receive. You want a housewarming gift that is thoughtful, one that they can really enjoy and will last longer than 10 minutes (my friends drink quickly).
So what can you buy them that won't sit and collect dust, and that they'll love?
A houseplant!
Beautiful, meaningful, and can be delivered to their new address or can be small enough to carry with you to the housewarming party. Houseplants make the perfect housewarming gift for singletons and couples, regardless of age.
But what is the best housewarming houseplant, and how do you choose one? Let's take a closer look into the beautiful world of houseplants and why they make the perfect gift.
This site features affiliate content. As an affiliate partner of various brands, we earn commissions on qualifying purchases, at no extra cost to you. Please read our disclaimer for more information.
Why Houseplants Are A Great Housewarming Gift Idea
Giving a plant to someone when they move into their new home is nothing new. In Japanese culture, they believe in houseplant symbolism, whereby a plant brings luck, peace, and harmony into your life.
So, because a plant can symbolize new beginnings, they are an ideal gift idea for a first time homeowner, or someone moving away from home for the first time.
Many houseplants are also easier to care for than people think. So, even if your friend isn't known to have a green thumb, you'll find the perfect plant to gift them below.
And, when cared for properly, plants can last for years, making them a pleasant reminder of this major accomplishment in their life.
With that in mind, here's our selection of the 10 best housewarming houseplants and what each plant symbolizes:
Best Housewarming Houseplants
For good luck and wealth: Money Tree
As the name would suggest, the money tree is meant to bring good fortune and financial prosperity into the home. Also known as Pachira Aquatica, this beautiful little tree is considered a good luck housewarming plant and, according to the principles of Feng Shui, should be placed in the furthest left corner of a room from the entrance.
Characterized not only by their beautiful bladed leaves but, when bought as houseplants, money trees usually have a braided trunk, which makes them very striking. The perfect addition to a new home, they can grow up to 8ft tall in a container and will look stunning in the corner of any room.
For love and elegance: Orchid
Known for being delicate and unique, did you know orchids also make the perfect housewarming gift?
Throughout the ages, orchids have gained cultural significance in many countries around the world. In Greece orchids are considered symbols of fertility and elegance, making them a great gift for friends or relatives who may be looking to start a family in their new home.
Available in many varieties, orchids are an incredibly beautiful addition to a new home, and the color you choose can also symbolize something unique too:
Pink represents grace and joy
Yellow represents friendships and new beginnings
White represents elegance and purity
The possibilities are endless!
For money and wealth: Jade Plant
Another contender for best housewarming houseplant, the jade is a succulent that brings financial fortune into a new dwelling. With its chunky green leaves, the plant resembles the precious jade stone and is believed to invite money and wealth to the owner.
This easy to care for pretty little plant will be happiest in a bright area. According to Rolling Nature, you should advise the new homeowner to place this beauty in a south-easterly point to attract money into the home.
For harmony and calm: Bonsai Tree
People's fascination with Bonsai trees goes back centuries. In Japan, these miniature trees are held in high regard and are steeped in symbolism.
Each bonsai tree represents something different, and every shape and silhouette of the plant is carefully scrutinized by the grower, making these delicate trees an absolutely unique and thoughtful gift for someone you love.
The smooth curvature of the leaves contrasting with the jagged edges of the trunk and branches symbolizes the coexistence of different elements in our lives, and depending on the variety of Bonsai you choose, can invite a plethora of fortune into a home.
Azalea attracts wealth, abundance, and passion, whereas cedar will bring protection, strength, and generosity. Choose your Bonsai wisely and it can be the best housewarming houseplant for your nearest and dearest.
For protection and endurance: Cactus
The cactus is known for its hardiness and is incredibly easy to care for.
Because cacti have the ability to flourish in harsh conditions and survive where other plants would perish, the cactus has come to symbolize endurance.
To add a special touch to this housewarming gift idea, make your own mini rock garden centerpiece that can be placed on a coffee table. Just select a few cacti and plant them in a lightweight feather rock to create a tiny coffee table garden.
For personal growth: Philodendron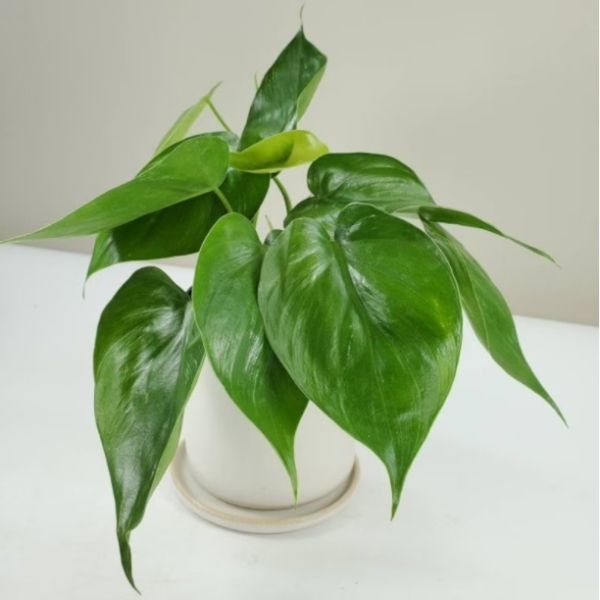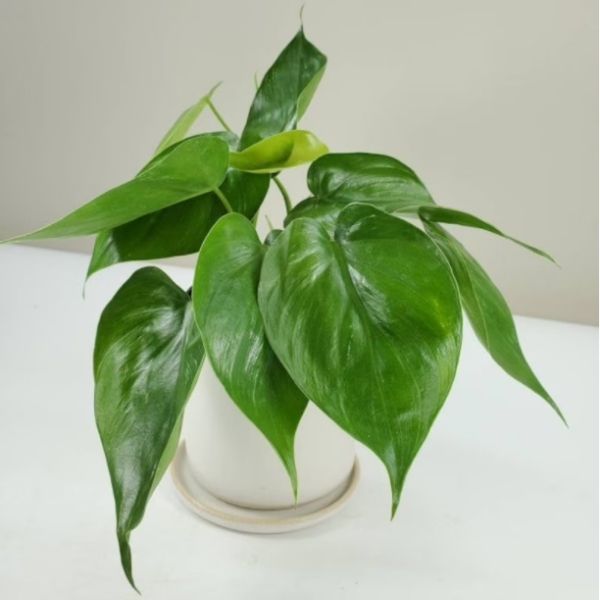 The name Philodendron comes from the Greek word philo (love/affection) and dendron (tree), so it's easy to see why this plant is a firm favorite with nature lovers the world over.
Characterized by either oval or heart-shaped leaves, there are many varieties of philodendrons, and all make great housewarming gifts.
Your recipient will love how easy philodendrons are to care for. They are happiest in medium, indirect light so can be placed almost anywhere in the house where there's a window.
This hearty and vibrant plant will look gorgeous trailing over a large decorative basket and is the perfect gift for someone starting a new chapter in their life, as the Philodendron symbolizes personal growth, development, and new beginnings.
For clean air and restful sleep: Snake Plant
Don't let the name of this plant turn you away, the snake plant is nothing to be afraid of!
Named for the shape and color of its leaves, this hardy easy to care for snake plant makes a great addition to any new home. Snake plants are well known to be excellent air-purifying plants that will aid in a restful night's sleep; perfect for someone who's just gone through the exhaustion involved with moving.
The Snake Plant also goes by the name 'Mother-in-Law's Tongue' and was part of a NASA study, whereby it was proved to have incredible air-filtering properties.
By adding a snake plant to the bedroom it will help purify the surrounding environment, in turn helping your friend/family member get a great night of sleep. They deserve it.
For good health: Spider Plant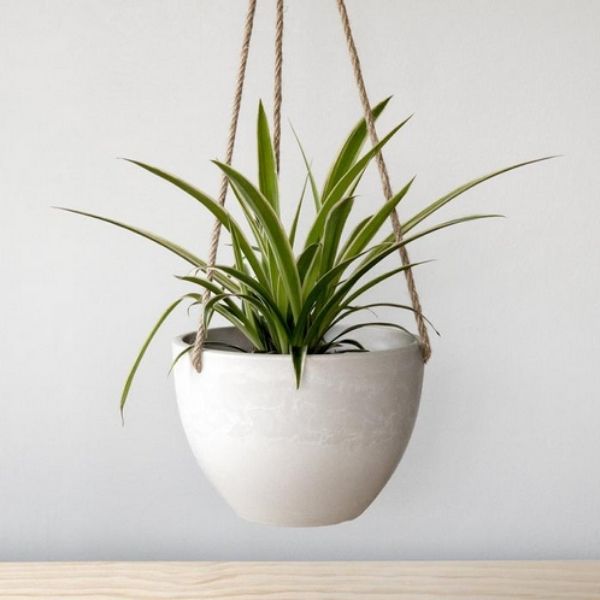 Spider plants are great plants for beginners and are known for their long-bladed, striped leaves. They love a bright, sunny spot where they can let their leaves hang down from their pot.
The spider plant is another plant known for its air-purifying qualities, it also removes negative energy and symbolizes the renewal of emotional connections; making it a great gift for someone moving away from home for the first time.
For new beginnings: Calathea
With several dozen varieties of Calathea plants (also known as Prayer Plants) to choose from, you're sure to find the best housewarming houseplant for your loved one in this gorgeous, unique plant.
The Calathea is characterized by its big, bright leaves. Some variations include patterns that look like eyes and/or stripes, so you might find some of them being called Peacock or Zebra plants.
An interesting feature of this plant is that the leaves open and close depending on lighting conditions. The name Calathea is derived from the expression "to turn over a new leafâ€, so the plant symbolizes new beginnings; making it a great gift for someone starting a new chapter of their life.
For relaxation and comfort: Lavender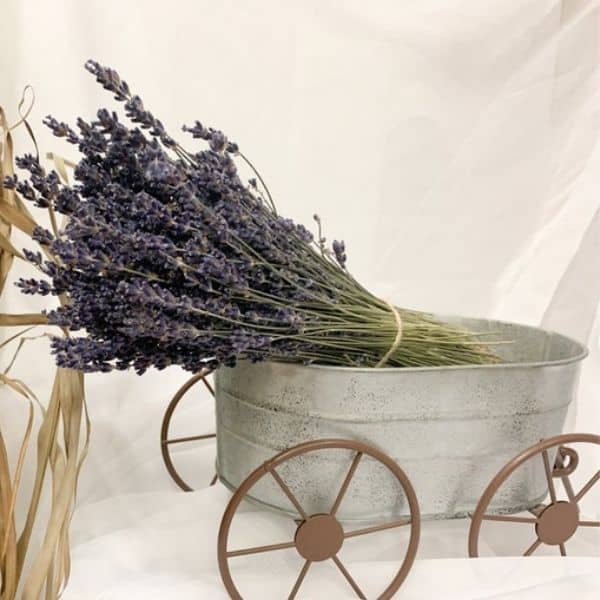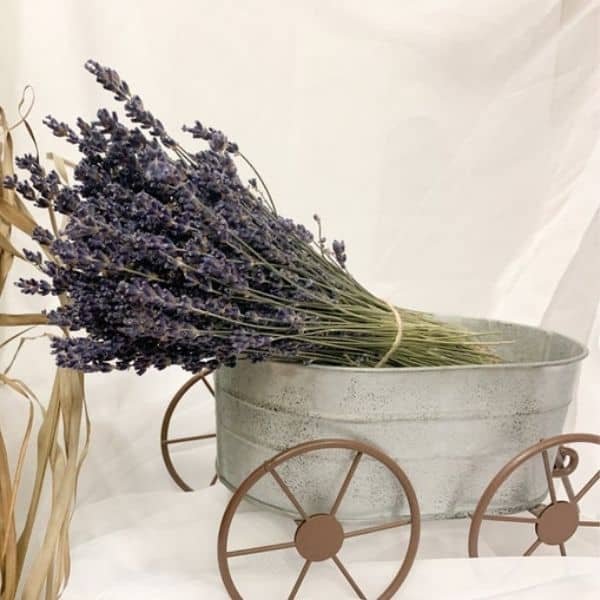 Everyone has heard of lavender; the pretty purple plant with a strong, calming fragrance.
Lavender makes a beautiful housewarming gift that will bring calm relaxing energy to its surroundings while filling the space with a welcoming aroma.
Lavender is pretty easy to maintain and will thrive in a bright, sunny place where it will add a splash of color to its surroundings.
While the plant itself is known to have medicinal qualities, it also represents purity, serenity, and tranquility, making it an excellent gift for someone who has just gone through the stress of moving house!
Where to buy the best housewarming houseplants
So, now that you know what the best housewarming houseplants are, where do you buy these unique gifts?
You can go to your local garden center or flower shop to buy most of the plants listed above, but why not have your housewarming plants delivered straight to the recipient?
Or, if you prefer the personal touch, have the plant brought to your door for you to take to your loved one the next time you see them.
Here are a few of our top choices for ordering plants online and having them delivered:
Findusintheforest on Etsy
Costa Farms on Amazon
Shop Succulents on Amazon
Bloomscape
I've had many plants delivered and am always impressed with how well packaged they are. Plants are packed very carefully to prevent damage during delivery and may be packed with a wet paper towel to ensure they do not dry out.
There's no doubt that houseplants make great gifts for many occasions, but their beauty, symbolism, and usefulness make them particularly great as housewarming presents.
So, now you have a great list of the best housewarming houseplants to choose from. You know what each plant symbolizes, can offer your recipient some ideas on where to place their plant in their new home, and know where to buy plants online…what are you waiting for?
Order your plant gift today and be ready to be named the most thoughtful housewarming gift-giver of the year.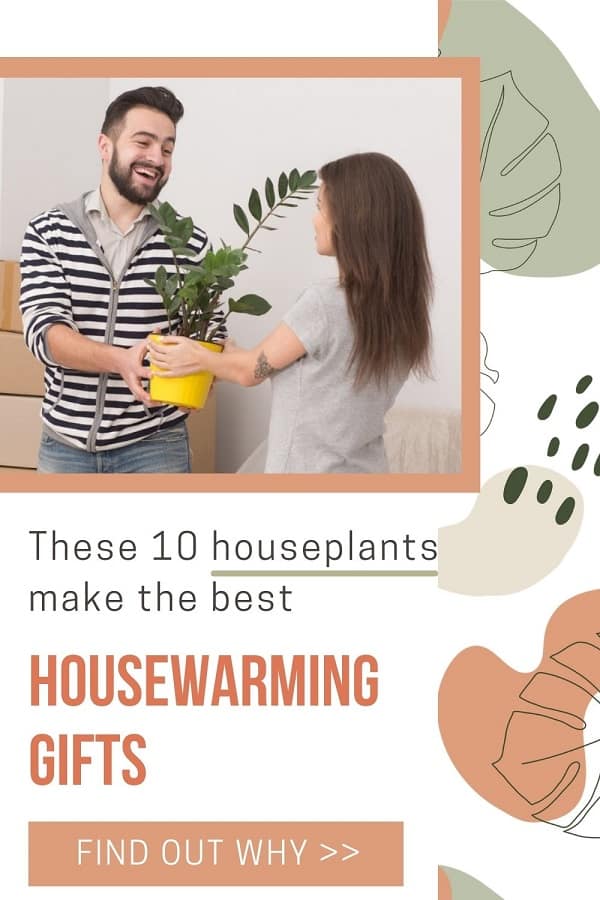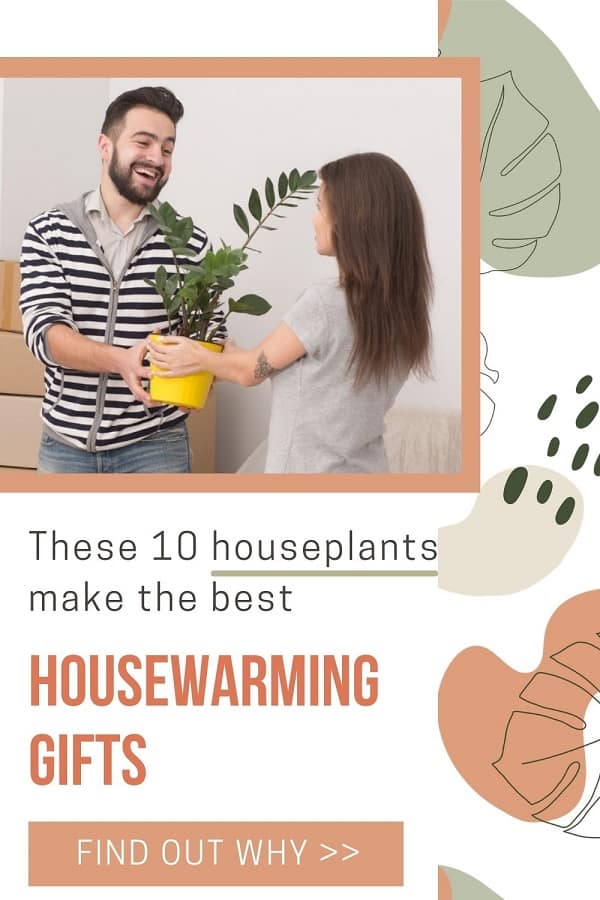 Best houseplants to gift new homeowners