Indoor vine plants can be used as a beautiful way to bring nature into your home. Vining plants can be grown in hanging pots or placed on high pedestals for a touch of whimsy. They can also be grown on trellises or other supports for a wilder, more natural look.
Read on to learn about different types of vine plants you can grow indoors, as well as tips to help you keep your indoor vine plants looking their best.
This site features affiliate content. As an affiliate partner of various brands, we earn commissions on qualifying purchases, at no extra cost to you. Please read our disclaimer for more information.
Top 3 Indoor Vine Plants
The Best Indoor Vine Plants For Your Home
No matter what decorating style you favor, or what look you are trying to create, there is an indoor vine plant for you.
Here are are our top suggestions of beautiful vine plants you can successfully grow indoors, even as a new plant parent.
01. Heartleaf Philodendron (Philodendron scandens)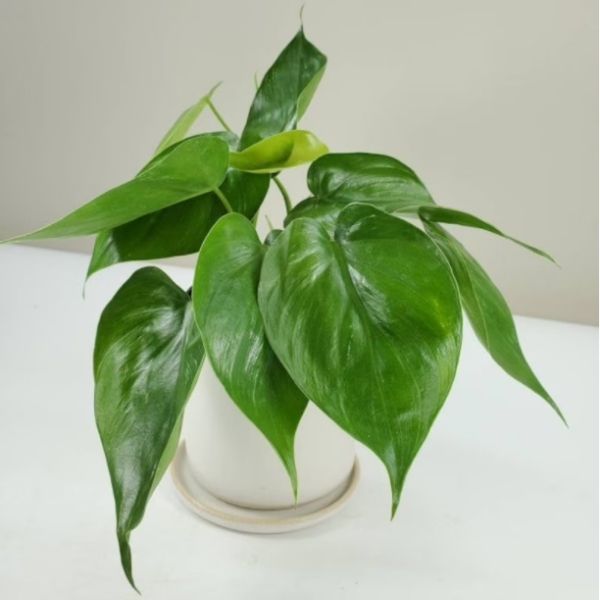 Also known as the Sweetheart Plant, heartleaf philodendron can grow in moderate to bright light conditions.
They can be coached to spread on bookshelves and cabinet tops and should be pruned to keep them looking their best.
They also do well in hanging pots.
02. Spider Plant (Chlorophytum comosum)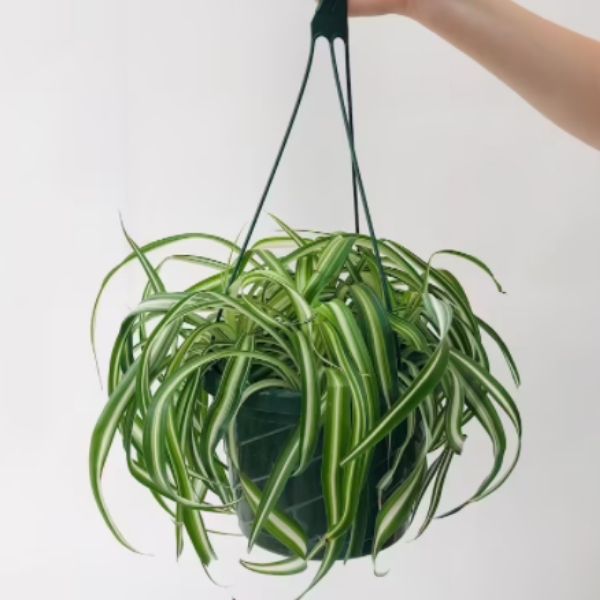 A great choice for self-described black thumbs, the spider plant is a hardy indoor climbing plant.
It has gorgeous green and white striped leaves with long stems.
It gets its name from the spider-shaped plantlets that grow off the main stems.
This unique plant looks great in a hanging basket or pot.
03. String of Pearls (Senecio rowleyanus)
For an eccentric take on growing indoor vine plants, consider growing the stunning succulent, string of pearls.
Note that the string of pearls does need to be handled gently and is a bit more labor-intensive than other vines, but its unique look makes it a worthwhile endeavor.
Don't let its small and delicate appearance fool you; this plant can grow vines up to three feet long.
String of pearls plants like bright light and can tolerate prolonged drought.
A word of warning, however, the plant can drop "beads†which are toxic if consumed, so you will want to make sure it is out of reach of small children or pets.
04. Peperomia Caperata
This is just one of the hundreds of varieties of Peperomia plants, the most common being the Chinese Money Plant (Peperomia 'Pilea').
The peperomia caperata plant is excellent for adding some different colors to your decor, other than the typical green houseplants are often known for.
It has small circular green leaves with an underside leaf color of red. The stems are also a lovely reddish-brown color.
This plant looks stunning drooping down from a hanging pot or basket placed on a high shelf.
05. String of Nickels (Dischidia nummularia)
Another money-related named plant, the string of nickels' unique, coin-shaped leaves range in color from a bright green to a lovely shade of bronze.
They are simple to take care of, making them great for novice plant owners.
The leaves are good at holding water and are drought resistant, so it's okay if you forget to water from time to time.
String of nickels plants prefer filtered sun, making them a great choice for a room that does not receive direct sunlight. They can also do well under artificial lighting.
This plant looks great in hanging baskets and may even grow up the pot's hangers for a more natural, effortless look.   
06. Inch Plant (Tradescantia zebrine)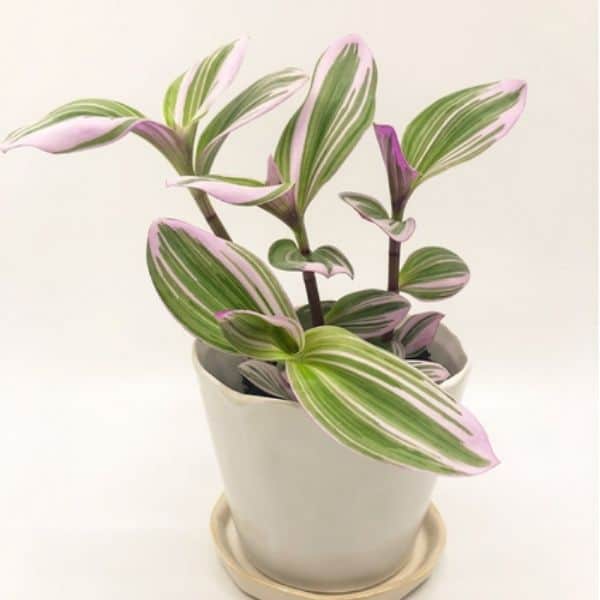 The beautiful pink and green zebra-like colored markings on the inch plant make it a real beauty.
Also called 'Wandering Jew' and 'Spiderwort,' this vine should be showcased near a decent source of light. It can thrive in dim light and even fluorescent lights, but its gorgeous colorful markings may fade.
Other varieties of this plant have green, purple, silver, pink, and red leaf markings.
To show off the inch plant's beautiful trailing vines, you can use a hanging basket or pot. This plant also looks great kept compact and full in a pot.
07. Black-Eyed Susan Vine (Thunbergia alata)
You may be surprised to learn that this gorgeous flowering vine can be grown indoors.
It can grow up to 8 feet in length, so if you're looking to fill a large space, this would make a great vine to grow on a horizontal support or trellis such as this one (check out the picture of it placed above a bed, it looks magical).
The flowers are typically yellow, white, or orange, but there are also red, salmon, and ivory varieties, making this a great plant to add some color to any design scheme.
Black-eyed Susan vines love the sun so you'll want to grow it in a sunny room or near a window.
08. Creeping Fig (Ficus pumila)
The creeping fig has dense foliage with small green leathery leaves.
It needs bright, indirect light and works wells as a table plant or in a hanging pot.
You can even use creeping fig to cover a topiary form (we love this one) to create a unique plant decor piece in your home.
It can also be used to cover a wall or grow up a vertical support.
09. Maidenhair Fern Vine (Muehlenbeckia complexa)
10. Pothos
Pothos are very hard to kill and very easy to take care of, great for new plant parents. They benefit from pruning to keep their vines looking lush and full.
Pothos can be grown in hanging baskets or on an upright support.
If you are looking for a houseplant to add to a room with little light, Pothos is a great low light plant choice.
Because the Pothos can tolerate low light conditions, it makes a great addition to your office or bathroom.
11. Jasmine (Jasminum)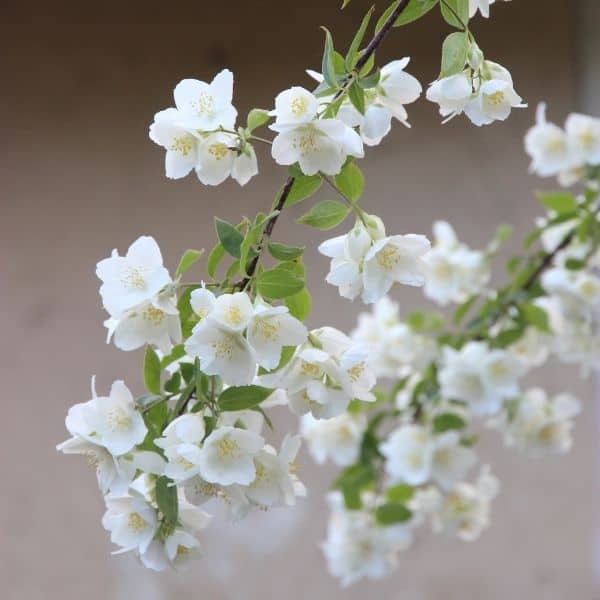 For a fragrant addition to your home, try growing jasmine indoors.
Jasmine should be kept in a bright spot where it can receive multiple hours of direct sunlight.
You can even find success with growing jasmine in colder regions with the Jasminum polyanthum variety.
12. Ivy (Hedera helix)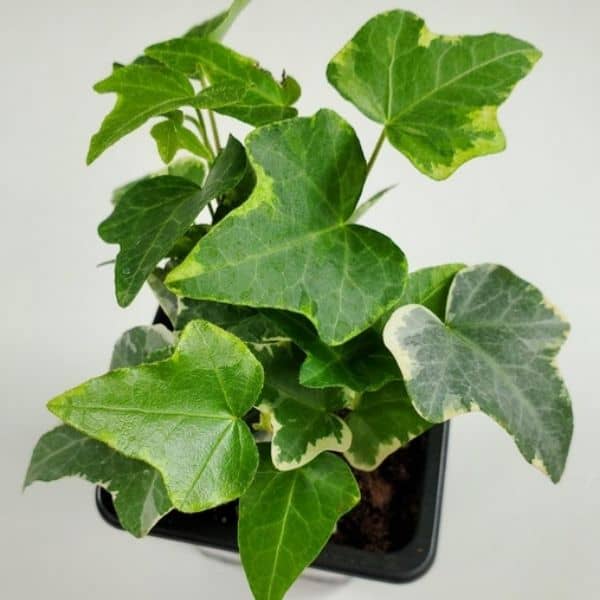 English Ivy is perhaps the most well-known and often-imagined plant when hearing the words indoor vine.
It can come in a variety of different colors such as deep green or striped white and yellow.
There are different types of ivy to consider: English ivy, grape ivy, Swedish ivy, and wax ivy are all beautiful choices. Whichever one you choose, ivy is sure to add some class and elegance to your space.
Ivy loves bright light to stay healthy, so it works well in a sunroom or can thrive by any sunny window.
Provide your vine support for it to grow strong and healthy
If you want your vine to grow up rather than down, it will need some type of support. The most common materials for supports for vine plants are wood, wire, rattan, and bamboo. They can take the shape of a trellis, spindle, or arch.
You can even find specialty supports in the form of hearts, pyramids, and other shapes. You can also make your own support with plastic-coated or rust-resistant wire if you want a unique shape.
When using a support for your plant, it is important to add it to the pot when you first plant. If you add a stake to the soil at a later time, it may damage the roots of the plant.
For more ideas on how to decorate with hanging plants check out this helpful video.
Taking Care of Indoor Vines
While different varieties of vine plants will have specific needs, there are some general tips to keep in mind.
Purchasing
When purchasing your plant, make sure to research its watering, lighting, and fertilizing needs.
Many of the common vine houseplants can do with less water, but overwatering will kill them.
Pruning
Most plants will need to be pruned regularly to keep growth under control and to make a more attractive house plant.
The best time to prune your indoor vines is in the spring before new growth begins.
For very voracious growers, you may also have to prune in the fall.
Placement
Vines can be grown in various ways, such as in a hanging pot, on a high shelf, or on a pedestal.
If using a pot or basket, you may need to re-pot your plant to give them more room to grow. The best time to transplant your plant is in the spring.
You can also train your vines to grow over doors, around windows, or down walls. You may need to purchase a support for your plant. For something discreet, try these climbing indoor plant support clips.
Conclusion
Houseplants are a beautiful way to bring nature indoors and add interest to your decor. Vine plants, with their hanging tendrils or wall-covering creepers, can add even more uniqueness and beauty to your home.
Related Reading
Decorative Indoor Hanging Planters (and where to hang them)
Low Maintenance Indoor Plants for Beginners
How To Root Plant Cuttings In Water